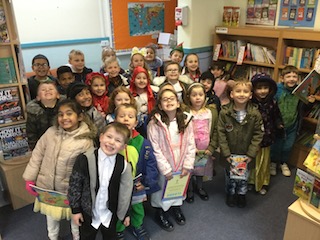 Class Teacher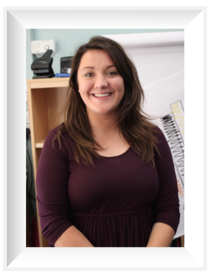 Miss Lippett

Congratulations to our Star of the Week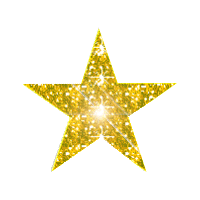 Jessica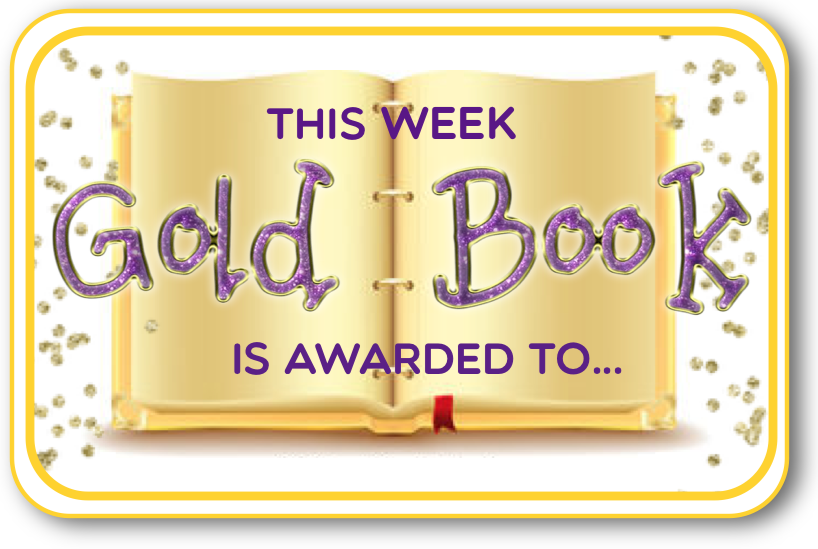 Gold book winners this week are ...
Autumn Term (1)

Week 1
Welcome back Clownfish!
We have had a wonderful week in Clownfish class and all the children have settled in well! It has been lovely to hear all about the exciting things you've all been to up to during the summer and children loved sharing their summer bags with the class!
Something out of the ordinary happened earlier in the week, as we were walking along the corridor we noticed that presents had been left all along the corridor and in our classroom! We checked with the other classes in year 1 and they had found the same as well! We couldn't believe it! As a class we mind mapped why we might have presents and what might be inside… when we opened them we found lots of different kinds of toys! We discovered that our topic was going to be all about toys and the children came up with different ideas to give our topic a name- Nicholas' idea was the most popular- VOLCANO OF TOYS!
Throughout the week the children have explored playing with a variety of toys, written about different kinds of toys they would hope to find in their bedroom and labelled pictures of their favourite ones.
In Maths we have had an exciting week during our inspirational maths challenges! We are problem solving through exploration and all the children have shown brilliant resilience when it comes to making mistakes!
Gold book awards- Joel L and Phoebe
Reader of the week- Jessica H
Star of the week- Darci J
Week 2
What another brilliant week in Clownfish Class- I have been so impressed with how hard the children have been working and that they are trying their best at all times, even when faced with a challenge!
This week in Maths we have been exploring ordering events and using time language such as first, next, then and last! We sequenced a familiar story and put the pictures and words in order! We have also been learning the days of the week, we learnt a song to help us remember! Did you know Sunday is the first day of the week?
In English we have been focussing on writing simple sentences with a capital letter and full stop using our best handwriting! Kung Fu Panda came to help us so we could remember our full stop at the end of our sentences! We have also been looking at the illustrations from our new text and practising our labelling skills. We've used our imagination to think about what might be happening in the pictures and predicting what our new story might be about…
Our new topic 'A Volcano of Toys' meant that we were able visit Toys R us on Thursday which we LOVED! The children were so well behaved we were really proud of them. We loved looking at the different types of toys and discovering new ones that we might not have at home! We created a piece of Art after our trip to show what toys meant to us.
Clownfish have also been finding out about materials this week, we sorted different toys into categories and thought of some adjectives we could use to describe them.
Gold Book Awards- Sai Qiolevu and Bonnie Price
Reader of the Week- Hiba F
Star of the week- Yunus A
Week 3
I can't believe its the end of week 3 already! The children have really settled into the year one routine and we have seen some amazing learning.
This week we met our new character Tatty Ratty from our story in English. The children have written simple character descriptions, learnt a story map and interviewed Tatty Ratty to find out more about him! We discovered that he was a rabbit who had been on an adventure. We can't wait to write our own story!
In Maths we have been continuing our work on days of the week and have also looked at seasons. Lots of mysterious objects appeared in our classroom and we needed to sort them into the four seasons; spring, summer, autumn and winter. We discussed what changes happened and which seasons are our favourite!
We've started Shared Reading this week which the children really enjoyed, we were exploring book covers and why they are important. The children designed their own front cover for a story of their own. We learnt what an author is, did you know it's someone who writes stories?
Star of the week- Hiba F
Gold book awards- Darci J and Tommy N
Reader of the week- Nicholas M
Week 4
During English lessons, Clownfish Class have completed their story writing on Tatty Ratty. They used the sentence structures they have learned verbally to put the words into their books. We are trying really hard to remember our capital letters and full stops and some of us are even starting to use adjectives too!
In topic, we have been looking at old and new toys. As a class the children discussed what old and new meant and then sorted toys into the different categories. The children created a timeline and learnt about the words past, present and future.
In maths this week the class have looked at numbers and sorting objects. They have been telling each other what they know about different numbers and have been using objects to represent them.
Week 5
In English, Clownfish have been working on their new story and have sequenced pictures using time connectives to link the events. Thank you so much to all of you that read with your child 5 times this week, they have now moved onto the reading dragon! Congratulations!
This week in Maths the children have been focusing on number. They have been ordering numicon and creating their own numicon number lines to 20. They have shown fantastic team work and brilliant reasoning skills as they are beginning to explain the maths that they are doing.
During Topic things have been messy! In art clownfish have been investigating the colours related to seasons and created our own painting of a season of our choice. In DT they used their cutting skills to decorate a toy with their own design. They also had a Science lesson where they labelled parts of the body using sticky notes on each other!
Week 6
Star of the week – Jack W
Gold book awards- Jakub S and Misel G
Reader of the week- Herbie W
What a wonderful week in Clownfish class! We have been so busy and the children have shown so much creativity and resilience this week when they have been faced with challenges. A HUGE well done to all the children and parents who have read 5 times or more this week, your name is now on the dragon and you have a sticker on your dragon reading card.
This week in English we have been writing stories, the children chose new characters to add to the story and then had a go at writing themselves. We have been practicing writing sentences with a full stop and a capital letter and have used time connectives to link the story together.
In Maths we have been learning about addition. The children have practiced adding one to a number using numicon, elves and towers! We looked for different ways we could record this and looked for patterns.
In Topic we have been sketching! The children experimented with different sketching techniques and then had a go at a self portrait. I was so impressed with how focused the children were and how they were giving each other tips on how to improve their artwork.
Have a lovely weekend and see you next week!
Week 7
We can't believe we've already finished for half term!
A big thank you to everyone for taking the time to come in and see me for parents evening, it was lovely to celebrate all the children's hard work with you.
In English, clownfish have planned and written their own story. They have shown off everything they have learnt this year and thought of some really creative ideas!
In Maths, clownfish have used a range of resources and mental maths skills to represent different numbers. They have been extremely resilient in finding out all of the different ways as sometimes this has been challenging! We know that making mistakes isn't something to be scared of as it helps us learn!
This week the children started their R.E lessons. We have been thinking about the word special and who and what is special to us. The children were extremely thoughtful and listened carefully to everyone's ideas.
Hope you all have a lovely half term!!
Star of the week- Esmai Tolhurst
Well done to our Star of the Week – Esmai
Autumn Term (2)
Week 1

Welcome back Clownfish! What a lovely week we have had, it really feels like the children have settled in now and are used to all our routines and working really hard which is fantastic.

In English this week we have been learning about language. On Halloween we had a bit of a spooky lesson and came up with lots of creative language which the children were brilliant at. The rest of the week has been spent exploring poetry and rhymes. We've learnt a class poem, sang nursery rhymes and explored a range of texts.

Reader of the week- Mariam

Star of the week- Tamzin

This week has been inspirational Maths weeks! We have explored number and shape with lots of problem solving activities. The children have had to use their reasoning skills, team work skills and their basic number facts to help them with the challenges this week. We have really been working on not getting upset when things are challenging and learning that making mistakes doesn't mean failure!

In Gym this week the children have been learning how to balance. I felt really proud of how well they listened to instructions and never gave up!

Have a lovely weekend and we will see you on Monday!
Week 2
We've had a fantastic week this week in Clownfish class. On Tuesday we visited the Search museum! We began by looking at toys throughout the ages and there were lots of activities for us to join in with! One activity was looking at and comparing very old toys with newer toys, another was dressing up and we even got to make our own cup and ball toy! I was so proud of all the children for how well they behaved, their creative thinking and curiosity throughout the day.
In maths this week we have started looking into part/whole. We started by looking at objects and things the children are familiar with. One was putting a human body back together, another was completing half drawn pictures and we also had a go at completing some puzzles on the carpet. We then talked about how things can be made up of lots of different parts, like our arms and legs are a part of our body and the windows and doors are a part of our homes!
In English we were looking at a poem called 'Through the Magic Window'. We learnt the poem and imagined what we might be able to see through the magic window, the children came up with really creative ideas! We then had a go at planning and writing our own poems but they were spooky instead of magical!
We've been busy designing and creating our own toys this week as well. The children worked in teams to create their toy out of cardboard boxes and other junk! The finished results are fantastic! We have robots, dogs and cars!
Week 3
We have been so lucky this week as on Tuesday Shake, Rattle and Roll music company came to work with us! We went into the hall where lots of different instruments were laid out in a circle. We then spent the session journeying across the ocean to the Caribbean where we played some amazing music to illustrate the wind, the rain, the ocean and the animals throughout the jungle! It was an amazing experience which was thoroughly enjoyed by both the staff and children! There was lots of dancing, laughing and musical talent!
In maths this week we have continued to look at part/whole but we have moved on to numbers. We have used a part whole model to show that 2 parts will join together to make a whole, and how numbers can be made up of different parts. We have used a range of resources, pictures and discussion points to see the maths in lots of different ways!
In English we have started looking at instructions and have been finding out what they are and what they are for. We realised we use instructions all the time and came up with a poster of features of things that we need to include. We will be exploring these over the next few weeks.
We have started practicing for our Christmas show and are so excited for you all to see it!
Star of the Week – KALEN
Week 4
Clownfish class have been busy rehearsing the Christmas show this week in between lessons and it has been so much fun, the children have loved learning the songs, making their costumes and their props.
In English, we have continued to look at instructions- we even followed instructions and made jam sandwiches and biscuits! We have also been writing instructions for how to decorate a snowman and teddy bear. We are learning to use time words and bossy words- which some of us are good at already!
In Maths lessons, they have continued to work on part whole. They were looking at splitting the whole banana or piece of cheese into parts and discussing this with their peers.The children have loved using practical resources this week and the discussion amoungst them has been brilliant.
Dr Collins has also worked with us this week and taught us how to make a catapult! We loved learning how to make it and had great fun catapulting pom poms into cups- who needs an ipad!!
Spring Term 1
Week 1
Welcome back and Happy New year Clownfish! I've really enjoyed listening to all the wonderful things the children have been doing over the holidays- it sounds like everyone had a fantastic time!
This week has been very exciting… a dragon broke into the school and left us some clues telling us about our new topic which is castles! We've thought about what we already know and then generated some questions as a class showing what we wanted to find out. In art we used our painting skills to create a castle.
In English we have started talking about traditional tales. The children came up with lots of examples and we talked about what kind of things are included in these stories. We had some clues in the classroom to help us guess which tale we would be looking at. There was a mirror, an apple, a blue and yellow dress and some red lipstick…. we guessed Snow White!
The children have focussed on settings and started to broaden their vocabulary by using description. We have been thinking of lots different adjectives to describe the setting…
In maths we have been looking at 3D shapes… the children are almost experts I have been so impressed! We have used vocabulary such as edges, faces, vertices and three dimensional and the children have explored what these mean and used them to describe different shapes.
Please can everyone make sure their water bottles and P.E kits are now returned to school so the children can use them when needed.
thank you
Spring Term 2

Week 6
Clownfish class have been looking at a different kind of text in English this week... POEMS!
The children read and learnt a poem about castles and then got creative and added their own verse that they worked on together, here it is...

What am I?
I have enormous flags on my tall towers,
The servants might smell because they didn't have showers!
I have a main tower that's called the keep,
This is where the kings and queens go to sleep.

We hope you like it! The children were fantastic at thinking of rhyming words.

In maths we have been looking at missing number sentences- the children have had to be detectives to try and work out the missing number. We have been practising our adding and subtracting skills in a variety of different ways.

In shared reading we have been reading our book 'the lion inside'.

Our topic on castles is coming to an end which is so sad as the children have loved it! This week we have created stamps inspired by medieval patterns, painting and decorating the castles they've made, comparing castles and exploring pictures from a birds eye view.

1 more week until Easter!
Star of the week- Ava C
Gold book award- Bobby and Hiba