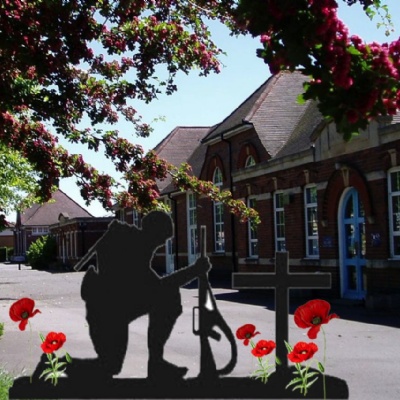 "When you go home, tell them of us, and say, for your tomorrow we gave our today".
Today we marked the centenary of the end of World War One with lots of special activities throughout the school.
Each year group has attended a Remembrance Assembly. The Junior school had a chance to lay the poppy artwork that they had made in class. The Infant school assemblies were taken by Miss Voller, who very kindly gave up her time to talk to the infant school children about remembrance and her own experiences with wartime.
Over the last week, the children have all made a poppy which are now displayed around the school and on the infant school playground. Foundation made fantastic poppies using the whole classes handprints.
We have many students here who are affected personally by war; they had a chance to pay special tribute to their family members from World War One and more recent conflict. The Infant school observed a minute silence after listening to "Last Post" and then hung their poppies on their playground and the Juniors observed a minute silence during their assembly.