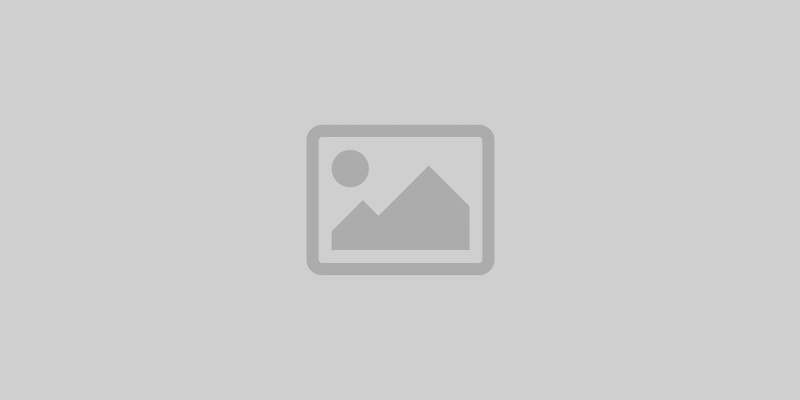 Class Teacher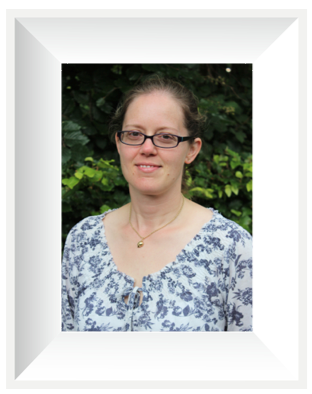 Mrs Lewis


Congratulations to our Class Captain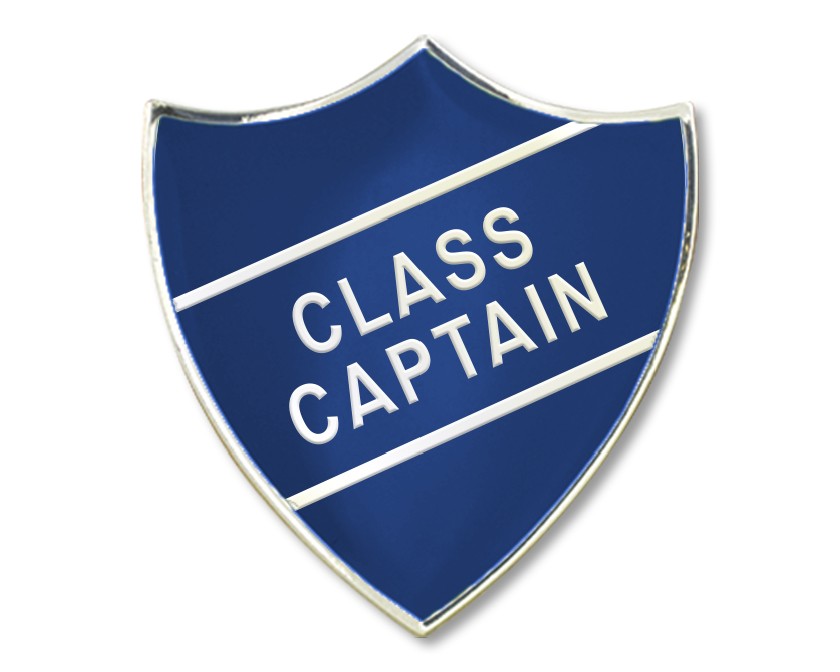 Layla L
Autumn Term 1
Week 1
We've had a 'Week of Inspirational Maths' where we've tackled mathematical mysteries, made and tested conjectures and learned how anyone can achieve in maths.
Our English work has been based around tales from Ancient Greece – discovering hidden meanings, motives and heroes ; and writing our own wishing stories based on King Midas.
We've made a start to our Ancient Greeks topic, locating Greece in the world and using our knowledge of history to work out when the Ancient Greek period was. We've come up with lots of questions we want to answer!
Dolphins class has made a fantastic start to their Spanish with pupils already able to greet each other and order their lunches in Spanish. This week we've focused on learning about Spain and Spanish speaking countries and the Spanish alphabet.
Week 2
Dolphins have had great fun playing ukuleles this week, thanks to a visiting teacher from Portsmouth Music Service. We're really looking forward to our next lesson.
In topic we've been researching and drawing vases from Ancient Greece and learning about the differing lifestyles of the Athenians and Spartans. The children used these to come up with their own fantastic top tips for getting on with well with others.
In Spanish Dolphins have been learning to meet and greet – asking and replying to questions about names and feelings.
Best of all, the whole class only dropped 8 points (out of 290) in the ir spelling test at the end of the week so a massive thumbs up to everyone supporting learning of these at home!
Week 3
Dolphins have been doing lots of drama activities in English, pretending to be Athenian and Spartan families and acting out our Balaclava Boys class text.
In maths we're investigating how numbers are used to help order things in real life and the children have been asked to look out for examples of number lines which we use for every day tasks such as measuring liquids, weighing ingredients and recording data.
In Spanish we've begun using numbers 1-10. See if your child can recite the numbers for you. You could even ask them their age in Spanish: ¿Cuantos años tienes?
In topic we've finished our Greek God fact files to go with our Top Trump cards and we're looking forward to a Greek science day next week.
Week 5
Dolphins have had another fun-packed week of learning!
In maths we've been looking at approximating numbers to the nearest ten or hundred and finished the week with a team problem solving competition which not only showed off their new maths skills but also some fantastic team work. Hermes and Apollo table drew for the top prize but I was very proud of all of them for working together so well.
On Tuesday we had our trip to the Ure Museum at Reading University to learn about Ancient Greek pottery and were lucky enough tohandle genuine artifacts.
On Thursday afternoon we sat in the beautiful sunshine, listening to tales from Ancient Greece around a camp fire and then toasting marshmallows. Huge thanks to Dr Collins for setting this up for us.
In science we've been learning about the difference between vertebrates and invertebrates and in English we're getting ready to write our own wishing stories.
We had our fourth ukulele lesson on Friday – hopefully you can see how well the children are doing in the video below.
Week 6
Dolphins reader of the week is Charlie.
We didn't do big quiz so no winner.
Star of the week is Anya.
Spellings and homework were handed out to everyone today. This week's spellings are: open, opened, happen, happening, limit, limiting, visit, visiting, garden, gardener. Homework is to try and earn more than 100 coins on Times Table Rock Stars.
Maths this week has been all about rounding – finding the closest multiple of ten or one hundred to a given number – and finding out when it is good to use estimates.
In English we're writing a class wishing story, The Greedy Prince – see if they can tell you about the story.
In Spanish we've been learning the names for different colours and how to ask and answer the question 'What is your favourite colour?' in Spanish.
Topic work this week has been all about preparing for their museum, ready to show off what they've learned about Ancient Greece to parents next Thursday morning.
Week 7
What a week! Dolphins have been busy publishing their own wishing stories, making pitta bread and preparing for their museum to showcase their learning in topic this half term. Check out the stop-motion animation made by children in the class which brings our vase illustration of Hercules defeating the Hydra to life. Huge thanks to Dr Collins for helping make our Ancient Greek pitta bread cooking even more authentic by cooking it in the outdoor oven with the children.
Many thanks to those who came along to help the children to celebrate their learning. It was wonderful to see you. Hope you have a restful half term and we look forward to seeing you again to help us 'Light Up the Sky' on Monday 30th October.
Autumn Term 2
Week 1
Well done to our Class Captain – Riley!
This week was all about the launch of our new topic – Celebrating India! We researched some of the basic facts and discussed what we knew about India before taking a virtual flight with NPJS Air to New Delhi. The children checked-in with their baggage and went through security to their flight. We then enjoyed in flight-entertainment in the form of a Bollywood-style family movie. When we 'arrived' in India we spent an enjoyable afternoon exploring the Hindu festival of Diwali and creating rangoli artwork for display in the classroom.

We also had our second Week of Inspirational Maths to help bring some of the Big Ideas of maths to life for the children.
Week 2
Class Captain: Lila-Jade
Star of the Week: Angel H
Reader of the Week: Poppy C
In maths we've been concentrating on techniques to help with mental arithmetic – and it has shown in their Beat That! test scores with some cracking improvements.
We've carried on the India topic theme through our English and PSHE work exploring stories and ideas about the inequality between the rich and the poor in India, including drama to represent the differences in life for the rich and poor in India.
Week 3
Class Captain: Skye
Star of the Week: Mia
Reader of the Week: Gabriella
This week we've been continuing our work on mental maths strategies and the children have continued to improve their Beat That! quiz scores as a result.
In Spanish were are immersing ourselves in the animal world, learning names and genders for different animals in Spanish through fun and games.
We were lucky enough to take part in a Bhangra dancing workshop in the middle of the week as part of our India study. Everyone got to take part in a Bhangra dance routine – pop into class if you'd like to see the videos! We've also continued our artwork around Indian elephants as part of our topic work, which on display in the classroom.
Week 4
Well done to our Class Captain: Quinn
Week 5
Well done to our Class Captain: Gabriella
Week 6
Class captain: Amber H
Reader of the Week: Ava F
Star of the week: Mia C
What a week! Most of our time has been taken up with end of term progress testing and working really hard on rehearsals for Beauty and the Beast, but we've managed to keep the fun and learning going too.
In science the children have been enjoying exploring electrical circuits. We've been learning about endangered animals as part of our topic and English work and we have been getting ready to write a report about the plight of the pygmy hippo in Western Africa.
In topic we learned about the legend of Holika and Prahlad and the Hindu festival of Holi. We then held our own festival of colour with all of the year 4 children and staff throwing paint in the playground. It was a really joyful experience and a perfect antidote to the winter blues!
Spring Term 1
Week 1
Class Captain: Joseph
Star of the Week: Duane
Reader of the Week: Riley
| | |
| --- | --- |
| | This week saw the launch of our new Raiders and Invaders topic. For the first half of this term we will be looking at the Romans and the impact they had on Britain. We were visited in assembly by Emperor Nero and Queen Boudicca of the Iceni who got into a lively debate about the virtues of their different ways of life and the children were inspired to find out more about them. |
In English we are finishing our reports about endangered animals of India and we have started reading C S Lewis' The Lion, the Witch and the Wardrobe. We tried to decide whether or not Lucy should go to tea with Mr Tumnus or head back to the safety of the house. This children did you all proud with their knowledge of stranger danger!
In maths this week we have been looking at ways to multiply and divide by 10, 100 and 1000 quickly, and how to multiply three one-digit numbers (e.g. 3 x 2 x 4).
In science, the children have been learning about the different states of matter and looking at water as a solid, liquid and gas – ask them about their experiments with ice.
Week 3
No ROW or Big Quiz winner but my star of the week is Henry and Class Captain was Evie.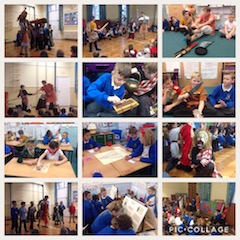 The highlight of the week was the year 4 Roman workshop on Wednesday when we spent the day learning about Roman life through games, quizzes, examining replica artifacts and drama - the gladiator fighting was particularly enjoyable!
In maths we've been looking at different ways to multiply larger numbers and in English we've been discovering how to engage the reader in suspense and monster stories.
In Spanish we've been looking at the Roman influence and history behind the naming of the days of the week to help us work out the words in Spanish and English.
We've also been investigating the science of sound and designing Roman mosaics.
Week 4
Well done to our Class Captain: Jake
Week 5
Class captain: Leon E
We made the most of the sunshine this week with a scavenger hunt around the school to find clues about the influence of the Roman occupation of Britain on modern day life. We also used the sun to help us tell the time like a Roman. We learned all about how the sun's shadows change during the day the made our own sundials, which were surprisingly accurate!
On Thursday it our was our turn to show off what we've been learning in class assembly. Dolphins class put on an excellent performance of a song all about the Romans, complete with sign language and actions.
Spring Term 2

Week 1
This is the last week of the Romans topic and we've spent it learning about the Roman army, sketching the Colosseum in Rome and performing a poem about Boudica and learning how to use action, volume, clarity and tone in our performances.
We've also had a sneaky preview of our next Raiders and Invaders topic - the Vikings! We've been writing about how the Saxons could have felt knowing this merciless fighting force was on it's way to take over the country.
In Spanish we've been learning about musical instruments and linked this with our topic work to discover which musical instruments the ancient Romans used.
In maths we've started our unit on fractions - the children have been taking an in depth look at what a fraction is and how to identify unit fractions - and in science we've been looking at habitats.
The highlight of the week, though, had to be meeting our new science and PSHE helpers - two gerbils, called Salt and Pepper!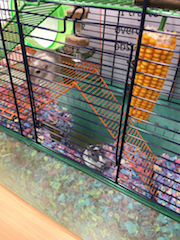 Week 4
Class captain: Charlie R
Reader of the Week: Charlie R
Star of the Week: Sharene M
We've been reading, performing and creating different kinds of poetry this week and we've made our own class book of Haiku poems about animals.
We've also been looking at different types of persuasive text, including speeches and letters, all based around our Raiders and Invaders topic theme - the children have been trying to persuade the Vikings not to invade Anglo Saxon England.
In topic we've been looking at how the Anglo-Saxons lived and comparing their materials and buildings to modern-day items.
We're continuing to investigate fractions in maths and the children are responding really well to the Shanghai-style of learning - it was fantastic to hear from so many children during parent's evenings how much they are enjoying fractions!
In science, the children are looking at habitats and ecosystems and they've begun building their own bug hotels which will be put up around the school to help encourage and maintain the insect population following the clearing of borders and undergrowth for the school's building programme.
The highlight of our week was a visit from children's author David Fuller, who delighted the children with readings and drama from his books as well as telling them about his journey into writing.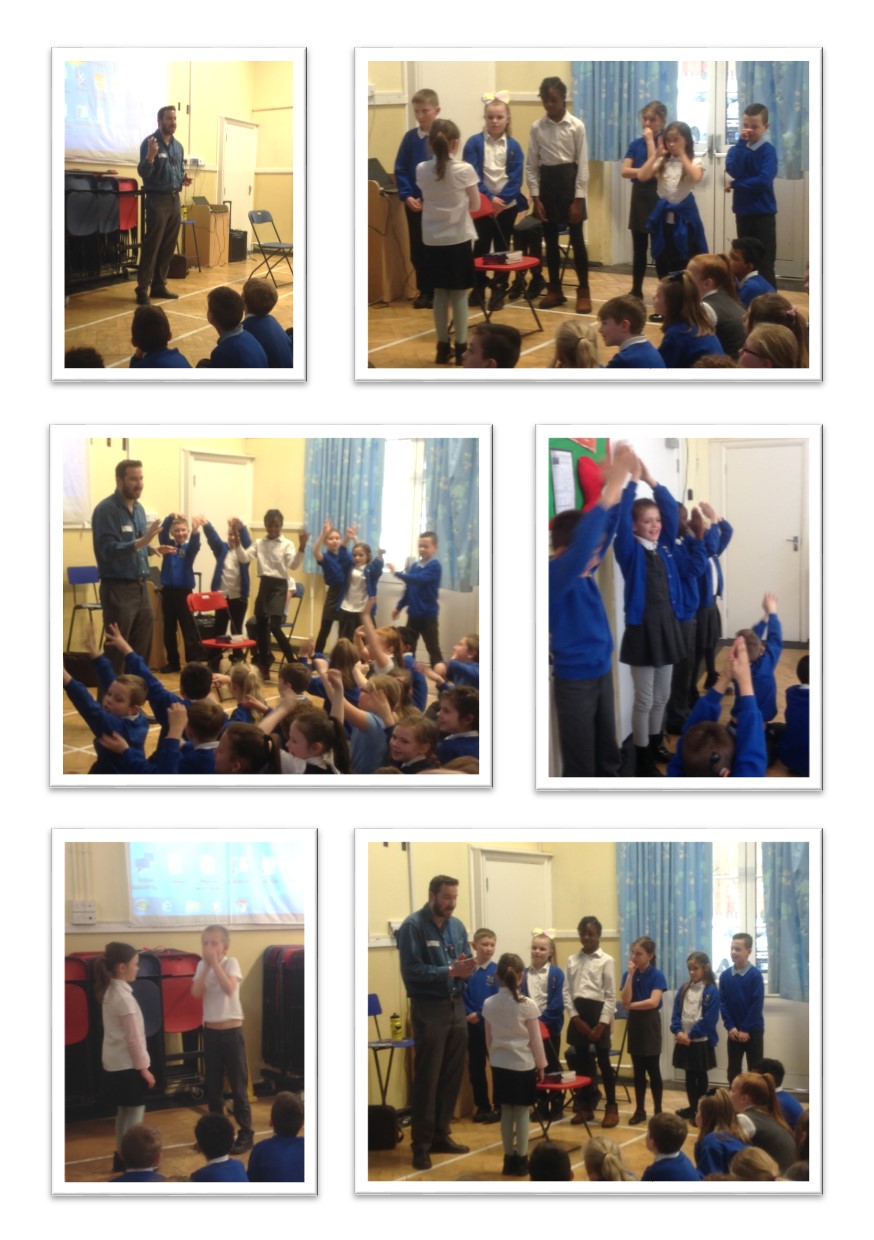 Week 6
Class Captain: Ronnie H
Word of the week: Disqualification
Dolphins class has enjoyed a very creative week getting ready for the big finale to our Raiders and Invaders topic. We built houses for our Saxon village and made looms which we used to weave our own cloth. We've learned all about the religions of the Vikings, their mythological universe, their Gods and Goddesses and conversion to Christianity.
In maths we've been revising our work so far to help us get ready for tests next week and in English we've been practicing the skills we'll need to write our own cautionary tales.
In Spanish the children used their language detective skills to read the story of Granjero (Farmer) Carlos and the troublesome rabbit who stole all of his vegetables. They've also been learning how to ask and tell what the date is.
Our science topic is all about habitats and we have been looking at the impact of environmental changes on ecosystems.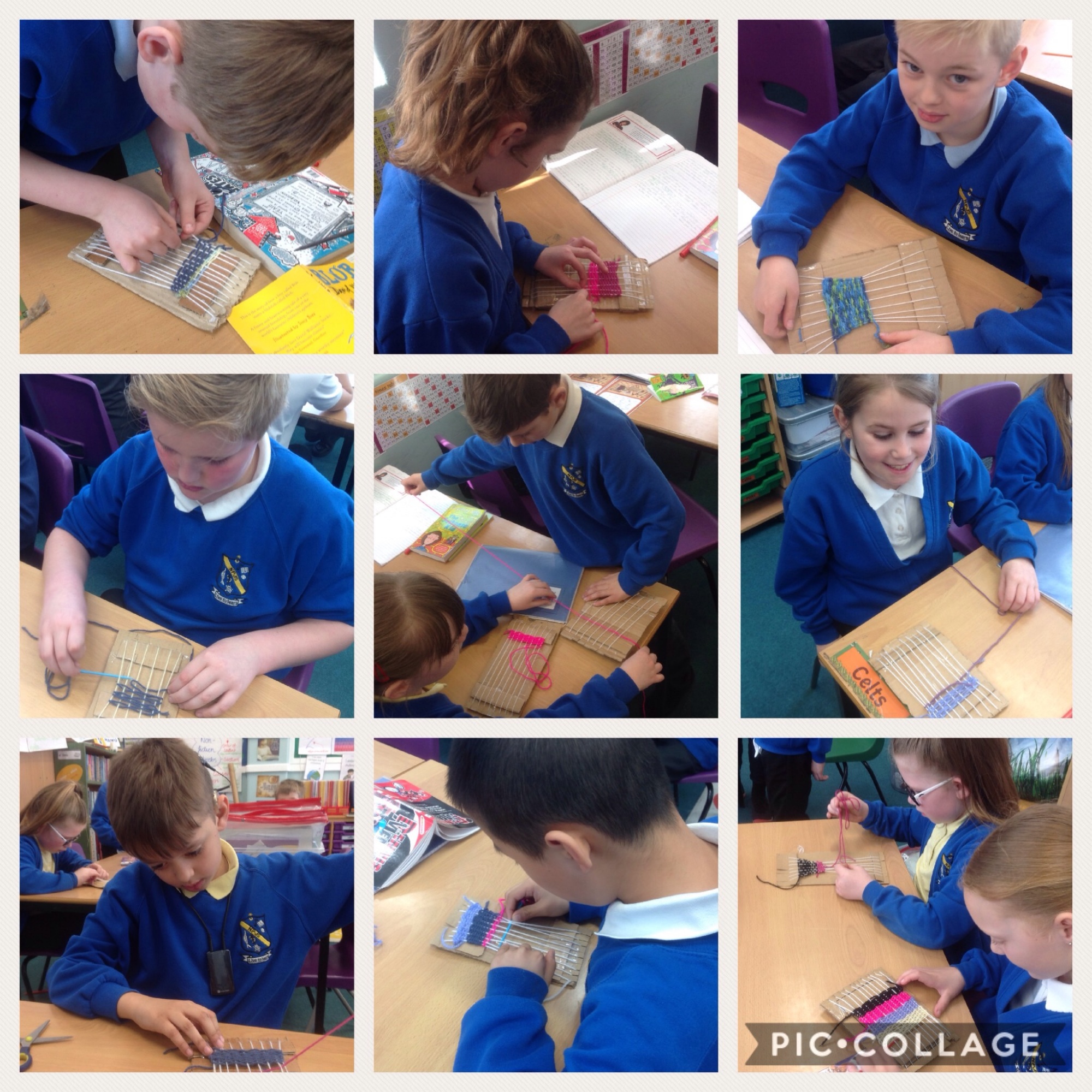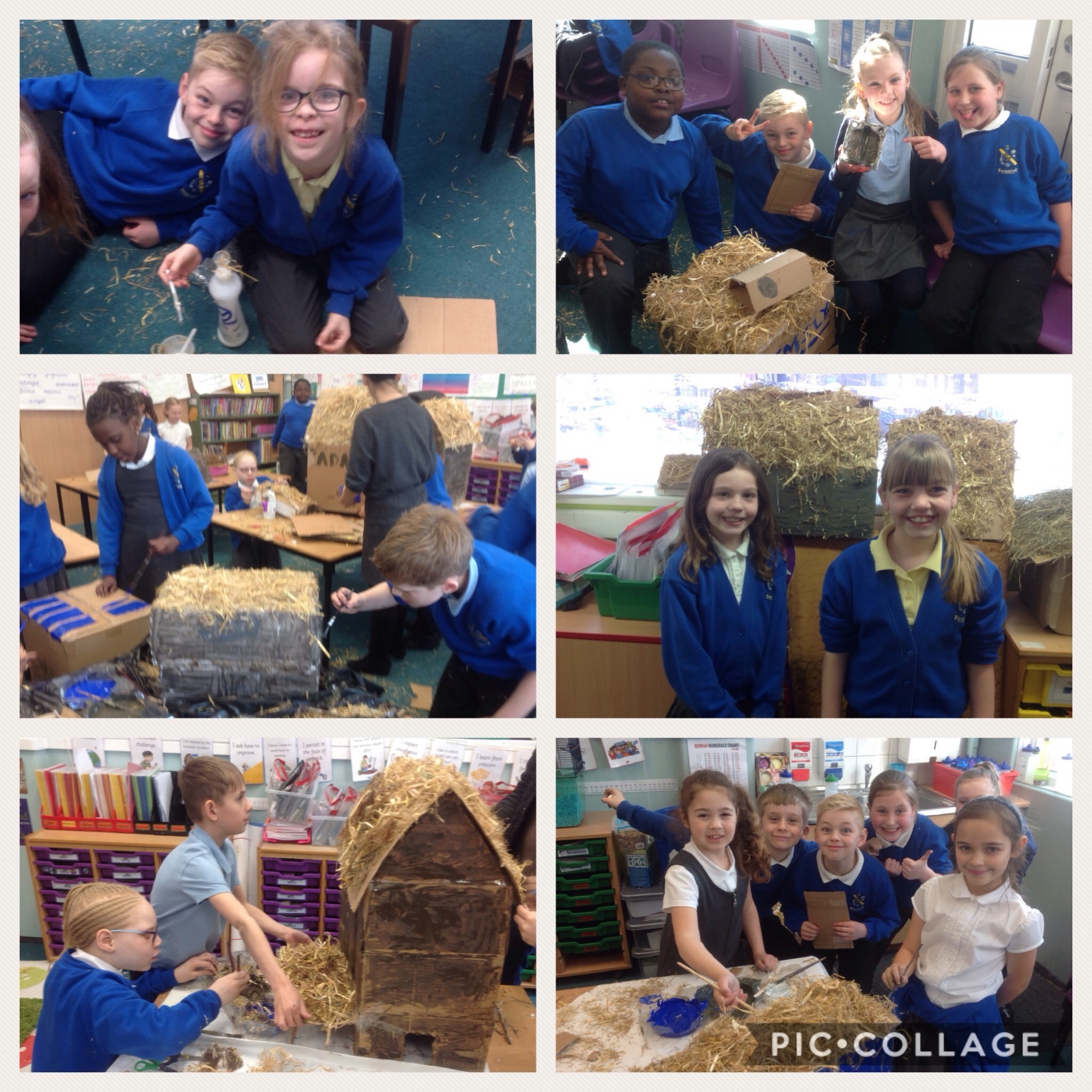 Summer Term 1
Week 1
Class captain - Heidi T
Reader of the week - Sharene M
Star of the week - Leon E
This week we've been investigating the properties of 2D shapes in maths and writing our own warning tales in English.
Shared reading has been all about immersing ourselves in Enid Blyton's Famous Five. We've been reading Five on a Treasure Island and exploring the themes it presents, including a PSHE lesson on the children's feelings about parents working away from home. We're looking forward to reading the rest of the book and finding out what the Five get up to on the island.
We have said goodbye to the Raiders and Invaders and everyone was very excited to discover that our topic work this term will be to transform the year 4 area of the quad into a learning environment. The children are very keen to have an outdoor classroom and to grow lots of fruits and vegetables using sustainable gardening methods. Over the coming weeks the children will be designing and implementing their plans for the area and hopefully beginning to grow their own food!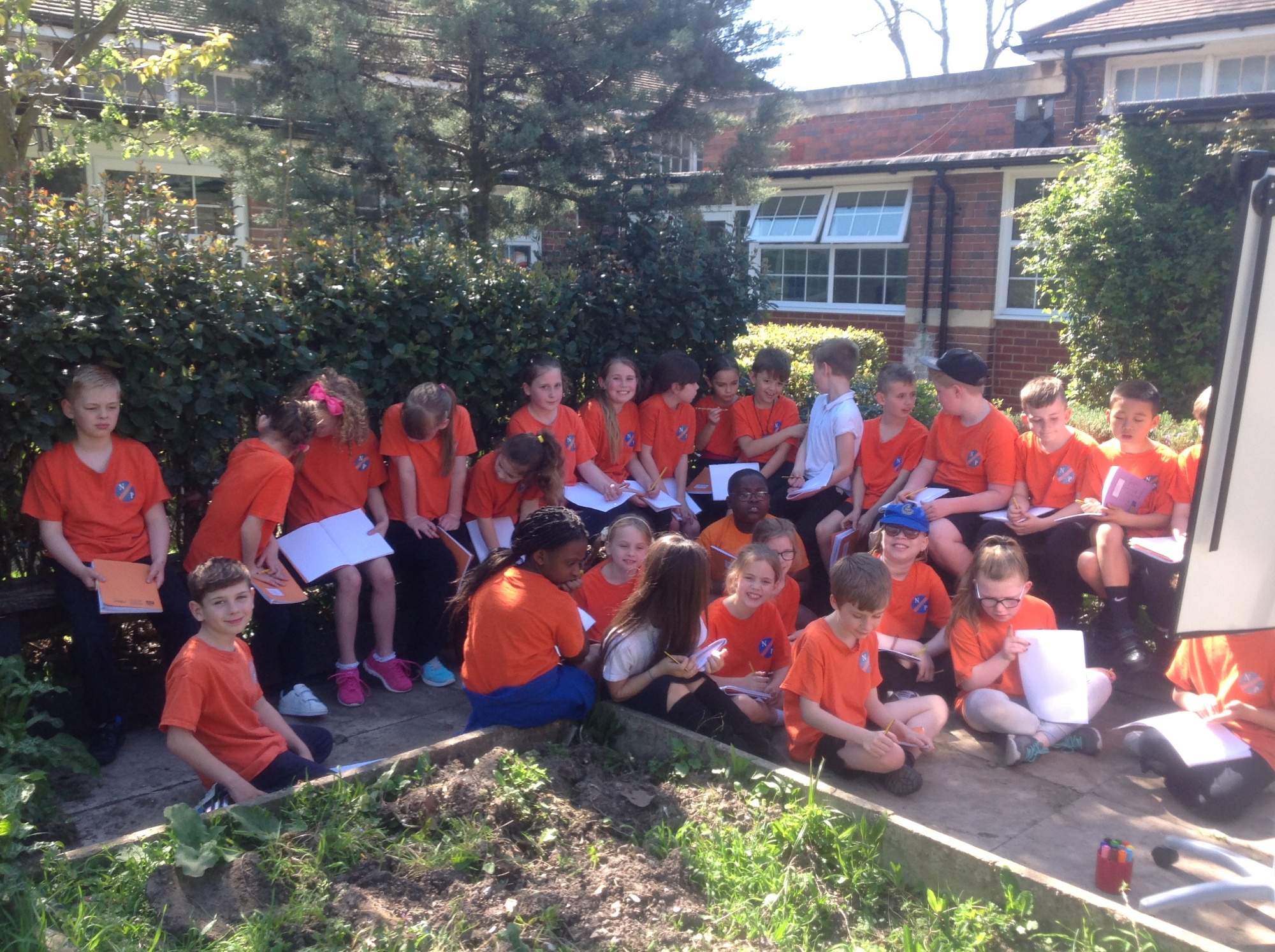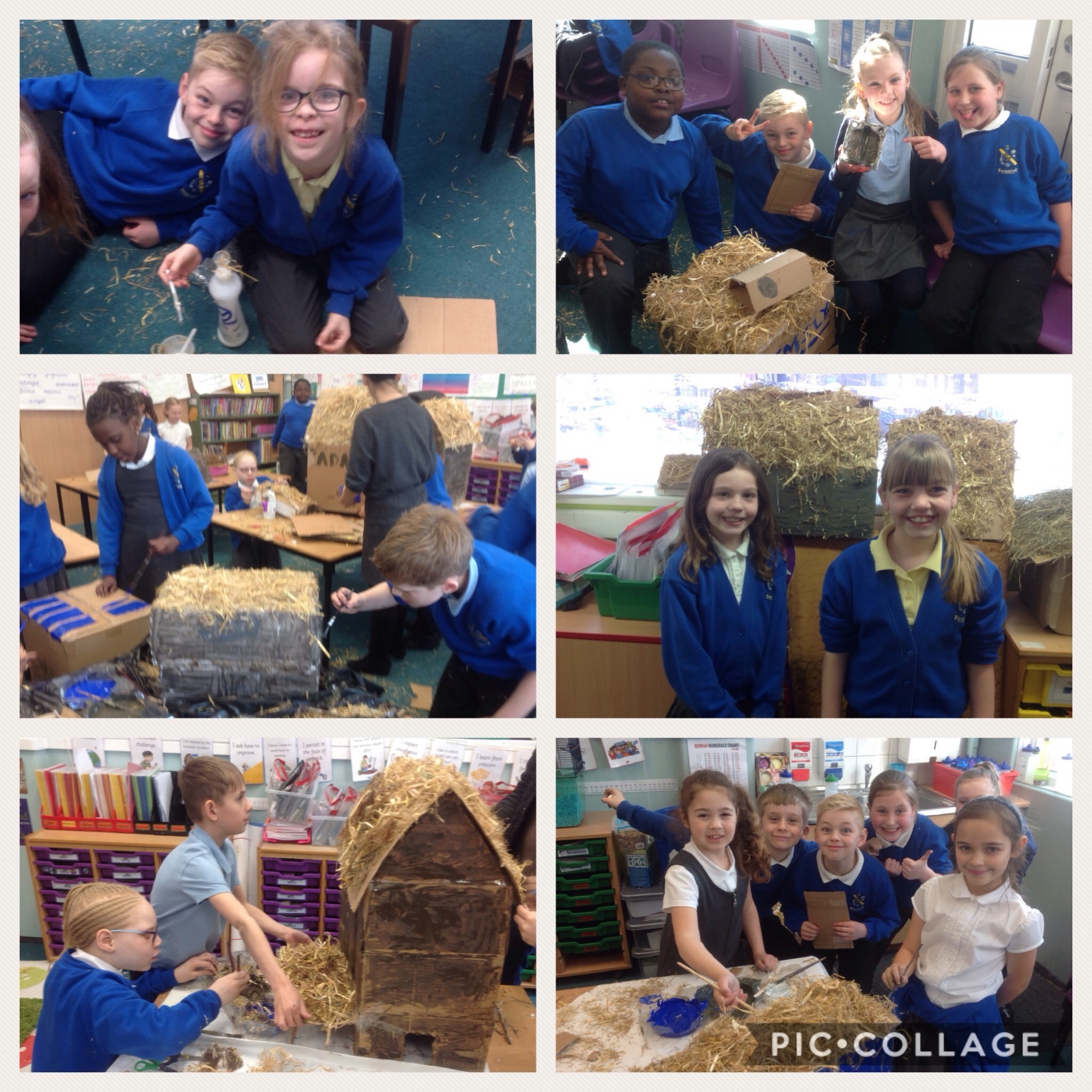 Week 4
Class captain: Layla L
Star of the week: Layla L
We've had an incredibly busy week planning and implementing our class five pound challenge. We've made, tested and begun selling our fruit juice ice pops and they've proved so popular we can hardly keep up with demand!
In Spanish we've been learning more about different parts of the body, including singing the Spanish version of 'Head, shoulders knees and toes'.
In topic we've been designing and learning how to put together raised beds for our new growing area in the quad.
Maths has been all about time - telling the time with digital, analogue and 24 hour clocks as well as calculating time intervals and solving problems involving time.
In English, we're getting ready to write our own children's adventure stories based on the tales of Enid Blyton, and continuing to look at the Famous Five's adventures in shared reading.