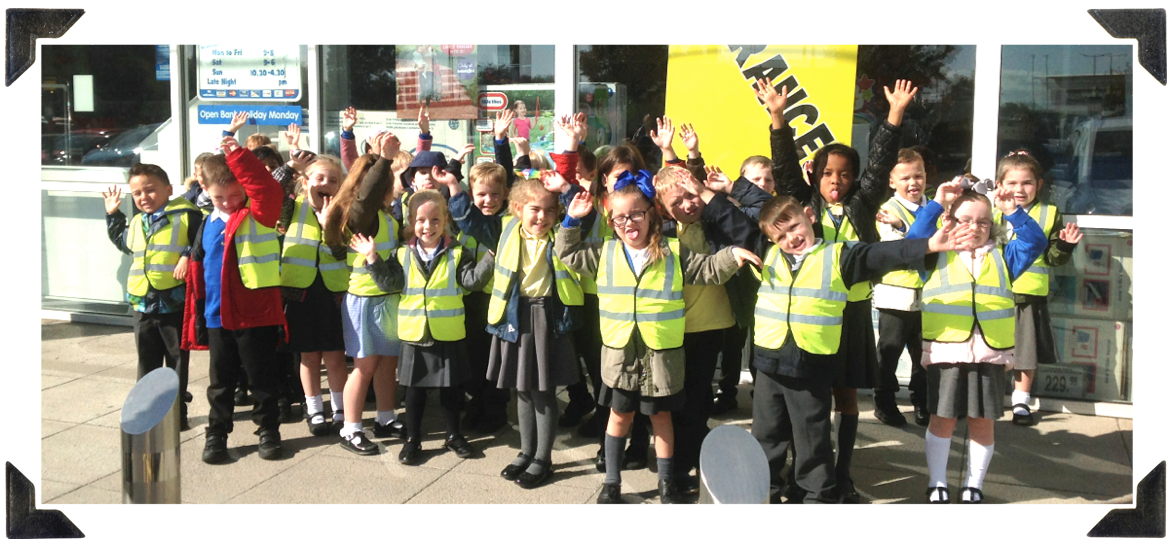 Class Teacher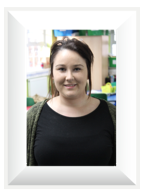 Miss King

Congratulations to our Star of the Week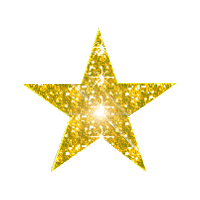 Harry
Gold book winners this week are ...
Autumn Term 1
Week 1
What a fantastic first week we've had in year 1! We have made lots of new friends in jellyfish class and are being introduced to a new school day routine.
This week has been our 'Inspirational Week of Maths'! We have explored lots of different activities including finger mazes, finger twister, number conception and problem solving. We have been working on adopting a growth mindset approach to our learning – ensuring that we remain positive and keep trying our best!
We have been introduced to our first topic of year 1: A Volcano of Toys! It all began when we came out of assembly and found lots of presents hiding in the corridor on the way back to our classrooms. We discussed what they could be and where they could have come from, then opened them up to find lots of different types of toys. For the rest of the week we've had lots of fun exploring how different toys work, sharing what we already know and asking questions that we can investigate in our topic.

The toy theme continued in our English where we have been writing about toy boxes. We have also labelled toys using a ruler.

Our sounds this week have been ch, sh, qu and zz. It is amazing to see how much the children have remembered from year R!
Life in year 1 is a big step up from Foundation but hopefully we will all settle and adjust soon. I am looking forward to our year together!
Thank you for your hard work and enjoy your weekend!
Week 2
Another fabulous week as we well and truly settle into year one. It's amazing to see just how quickly Jellyfish class are adapting to their new school day and I'm so pleased with how hard they are working.
In our maths lessons this week we have been practicing putting events and activities in order by how they happen. We have used language like 'first', 'next', 'then', 'after' and 'last'. We have worked so hard to think about how we organise different things and have worked amazingly to demonstrate terrific teamwork, just like our Teamwork Trio school dragons taught us!
In English we have started looking at different illustrations and creating sentences about them. We have talked lots about what makes a good sentence and then practiced recording these accurately in our books. We have also practiced using a ruler to label pictures.
We had our first BEAM lesson this week where we practiced different positions and moved our bodies in different ways. It was lovely to see the children putting a lot of effort into strengthening those important muscles!

Our topic lessons have continued to be overflowing with fun this week as we continue our journey through 'A Volcano of Toys'. We have created a picture in an art lesson that reflects what 'toys' means to each of us. We have then gone on to discuss what a material is, what materials we can see all around us and how we can organise and describe them.
I am absolutely over the moon to be starting such a fantastic journey with my Jellyfish class – well done to each and every one of you for being so positive about your new adventure.
A big well done to our Jellyfish Reader of the Week – Addison, who read beautifully to me by concentrating hard to apply his sound knowledge and decode words.
Our Gold Book award this week goes to Liam H for being so engaged and involved in our lessons this week. He has asked fantastic questions and made brilliant suggestions to our class discussions, along with trying his best to record his work beautifully.
Week 3
In maths, we have continued to explore the days of the week, and finished by organising them so that they showed a continuous rolling pattern that doesn't just stop at the end of a week. We then moved on to exploring the seasons. Our first lesson on Thursday was really exciting, there were lots of different items around the classroom and we had to use our teamwork skills to organise them into the appropriate season. There were hats, gloves, scarves, sunglasses, brown leaves, conkers, Easter eggs and much more! We then finished off the seasons lessons by creating a piece of work that showed what each season means to us.
In English, we have met our new friend 'Tatty Ratty', a cuddly bunny who goes on lots of adventures whilst his owner Molly is asleep! He has had breakfast with the 3 bears, visited Cinderella in the castle and even had a ride home on a dragon! Throughout the week we have done lots of different activities to get to know our class text. We have drawn and performed our story map, written sentences to describe Tatty Ratty and come up with some questions we'd like to ask him! We've all worked so hard to use our skills of sounds and letters.
In Topic, we have continued to describe different materials. On Wednesday, we were given a pack of different describing words and had a chance to look around our classroom to find materials that were 'bumpy', 'fuzzy', 'shiny' and lots more! Next week we will have a look at what happens when we mix different colours when painting.
On Thursday we were lucky enough to have a morning session with Dr Collins! She took us outside and we were very excited to take part in a bottle flipping activity, where we attempted to throw a plastic bottle with water in up in the air and get it to land standing up. It was really tricky to figure out the best way to do it, but we were all so resilient and many of us were able to get there in the end!
A big well done to our reader of the week Liam H who blew me away with his fantastic sounding out and blending together his words, and Noah Fletcher who showed amazing resilience when we were outside with Dr Collins. He found the activity really tricky at first but kept trying until he found a way to succeed. Well done Noah and Liam!
Well done to our Star of the Week Tyler-James
Week 4

This week has been a challenging one in year 1! We have continued to work through the new year one challenges that we face and are really committed to showing our school values – teamwork, resilience, challenge, independence and creativity.

In English we have continued working on our story Tatty Ratty and have worked to sequence the story independently and describe what is happening in each part. It is wonderful to see how well the children know the story. Ask the children to show you at home! (Helpful hint if they have forgotten – use your hands to make bunny ears and start with a sad voice saying 'Tatty Ratty was lost…', they can take it from hear!) We've had lots of fun!

In maths, we have moved on to looking at number. We started this week exploring numbers 0-20, using resources and vocabulary to represent a specific number in different ways. It has been a bit of a struggle to see and explain things in various ways, so we will be taking some time to really explore these numbers and strengthen our understanding of them, along with their relationship to others.

In topic this week we have looked at and compared toys from different times! It was interesting to see toys that were played with a long time ago compared to toys we play with now! We put them on a timeline based on what toys we thought were the oldest all the way to what we thought were the newest.

In science with Mrs Creasey this week we had lots of fun designing our own healthy meal! We used paper plates and a variety of craft materials to build a meal that we thought was healthy.

A big well done to our reader of the week Honey-Bow who worked exceptionally hard to apply her sounds to decode some tricky words!

Also a big well done to Oscar who has worked very hard to remain engaged in our lessons this week and has approached his learning with great positivity!
Week 5
Well done to our Star of the Week – OSCAR!
Week 6
Another fantastic week in Jellyfish class! We have worked so hard and are really starting to see some progress.
In English, we have written our class story of 'Toy's Party' but have replaced the characters with our own ideas! We have worked hard to include capital letters and full stops in our writing and our letter shapes keep getting better and better.
In maths, we have been exploring adding on 1 to different numbers. We have been using resources and pictures to help us and are beginning to use appropriate mathematical symbols.
It's been a lovely, full 4 day week and we are 1 week away from half term!
A big well done to our reader of the week Lily for her independence in her reading and our gold book winner Tommy who has shown fantastic resilience all week in applying known skills and learning new ones in his maths.
Week 7
Well done to our Star of the Week – Anna!
A fabulous final week to end our first half term in year 1. We have written our very own story about a toy and are really beginning to apply our skills that we have learnt in year 1 so far. In maths we are getting brilliant at remaining resilient and are beginning to see patterns in things we do. Thank you all to the parents that came in to create butterflies with us ready for light up the sky! Have a great half term.
Autumn Term 2
Week 1
Well done to our Star of the Week – Daniel!
A great week back after a well deserved rest. It's been lovely to hear about all of the half term adventures!
For our first week back we have jumped into some 'inspirational learning'! Our maths lessons have consisted of exploring some creative patterns and techniques and playing some games. We completed our week of inspirational maths by creating shapes out of lots of different materials. We then had to prove what shape we had!
In English, we have been immersed in the world of poems and nursery rhymes! It is lovely to see so many of the children are familiar with old time nursery rhymes and are able to sing along. We have looked at rhyming and have even created our own rhyming words. We have moved onto phase 4 of phonics where we are looking at blended sounds, e.g. br, st, gr, bl, fr.
The half term seems to have done wonders as so many Jellyfish have come back and hit the ground running with their handwriting and sound application!
Our topic is still 'A Volcano of Toys' and we are well and truly on the way now to creating our very own toy. We have designed them already, with ideas from robots to skips to monster houses! We have even thought about what our toys will be made from, who will play with them and how they might move. Don't forget, the Jellyfish trip to the Search Museum is on Tuesday afternoon. We will also begin practicing for our Christmas show soon!
In RE, we have begun to look at the Hindu religion in more detail. We have learnt the story of Ganesh and have sequenced it in our own way.
Well done to Carys Jones and Ethan Yann – our gold book winners for this week. Carys has shown tremendous engagement and commitment to her learning and often makes valuable contributions to our lessons. Ethan has worked his socks off in trying to improve his writing and is getting there! Another big well done to our Reader of the Week Justin Harris-Steward who is making lovely progress in recognising sounds and applying his phonic knowledge. Keep it up!
Week 2

What a fun filled week we've had in Jellyfish class!

Monday was a normal day, but the real fun began on Tuesday when we visited the Search museum! We arrived just before lunch time and were super excited to get started.

We began by looking at toys throughout the ages. The first was a hula hoop made out of metal from the Victorian times! We realised that the children then wouldn't have been able to spin it like we do as it was too heavy! We learnt that instead they spun and chased it down roads. We took part in lots of activities throughout the day. One activity was looking at and comparing very old toys with newer toys, another was dressing up and we even got to make our own cup and ball toy! At the end of our time there we were taken into a special part of the museum where we got to explore someone's huge Star Wars collection! We all had a fantastic time and were brilliant representatives of Northern Parade – well done year 1!

In maths this week we have started looking into part/whole. We started the week with a carousel where we took part in different activities. One was putting a human body back together, another was completing half drawn pictures and we also had a go at completing some puzzles on the carpet. We then talked about how things can be made up of lots of different parts, like our arms and legs are a part of our body and the windows and doors are a part of our homes!

We've had another week of Inspirational English lessons where we have looked at another poem, 'Through the Magic Window'. We learnt the poem and discussed what else we might see through a magic window – some great ideas included a princess riding on a horse and dolphins jumping in the sea! We then had a go at planning and writing our own poems entitled 'Through the Spooky Window'. The children came up with some fantastic ideas and enjoyed sharing them with others.

Our last day of the week was fantastic as we started off with our gym session, bunny hopping around the hall! Friendly reminder – please can you ensure children have both shorts and jogging bottoms in their PE kits at all times!

For the rest of our Friday in school we planned and started to make our very own toys out of recycled materials! We had ideas from unicorn robots and cars to box men and fox girl! We have started to create our masterpieces and will continue putting them together next week. So far so good!

Well done to our Gold Book winners Oliver Flindt and Lilia Wagg! Oliver has continued to show outstanding engagement in his learning and Lilia who was exceptionally brave when auditioning for our Christmas show!
Another big well done to our reader of the week Mustafa Rahman who has made an extra special effort to read lots more at home!
We only had 9 children on the dragon this week which is our lowest yet! Please keep reading at home!
Well done to our Star of the Week – Karolina
Week 3
This week has been jam packed with fun in Jellyfish class!
We had a whole day of topic on Tuesday where we worked in groups to continue creating our very own toys. We painted our cars, robots and unicorns different colours and then worked together to decide what features we wanted to add to our toys to make them look exactly what they were supposed to be. We added googly eyes, tails, old CDs and much more! It was so much fun and we showed fantastic teamwork.
Another big treat on Tuesday was that the Shake, Rattle and Roll music company came in to visit us! We went into the hall where lots of different instruments were laid out in a circle. We then spent the session taking part in a voyage across the ocean to the Caribbean where we played some amazing music to illustrate the wind, the rain, the ocean and the animals throughout the jungle! It was an amazing experience which was thoroughly enjoyed by both the staff and children!
We had even more fun on Thursday when Doctor Collins came into our class and we spent an hour making and playing with our own toys! We made a contraption out of lollipop sticks and elastic bands that worked to fling small pom pom balls into a plastic cup! We were all so resilient as it was tricky at first but stuck at it!
In maths this week we have continued to look at part/whole of numbers. We have used a part whole model to show that 2 parts will join together to make a whole, and how numbers can be made up of different parts. We have used lots of different resources and are really enjoying pulling apart the maths to see things in different ways. Next week, we will move on to looking at how things can be made up of more than 2 parts – including a fun lesson cutting up bananas!
In English we have started looking at instructions and are recognising that we use them everyday! We came up with some fantastic suggestions for where we might find instructions and will explore this further in the coming weeks.
We have started practicing for our Christmas show and are so excited for you all to see it!
A big well done to our Gold Book winners, Oscar and Tommy-James, for both showing fantastic independence and challenge in their learning this week. Our reader of the week is Daniel Wright who has challenged himself to decode some really tricky words. Well done!
Star of the week was Justin-Harris
Week 4

It's been very busy in Jellyfish class this week as we frantically prepare for our Christmas show 'The Elves and the Toymaker'! We have been practicing our songs lots and are sounding fantastic. We have also had afternoons with arts and crafts where we are making our own bits and bobs for our outfits! The children have been brilliant at following instructions and putting their best efforts into rehearsals.

In maths this week we have been exploring how a 'whole' can in fact be cut into more than 2 parts! We started this exploration with a challenge – each child was given a banana and asked, 'can you cut your banana into more than 2 parts?'. The results were all different! We had bananas cut into 4 parts, 10 parts and some bananas were chopped into lots and lots of tiny pieces! We then discussed if it matters or not how big the pieces are when thinking about the whole banana. The children were then allowed to eat their banana and were asked 'how much of your banana have you eaten?' and they all understood that when all parts are put back together it makes the whole banana!

In English this week we have been looking further at instructions. We wrote a set of class instructions together on how to decorate a snowman. We thought about what colouring pencils we needed to add each part and then discussed what order we wanted to put our steps in. The children then had a go at independently writing out the instructions. We then began to plan our own instructions independently on how to colour a teddy bear. We checked that our steps were accurate and clear by challenging a partner to follow our instructions!

In shared reading we began to read the story 'Lost and Found'. A penguin had arrived at the front door of a little boy and we all talked about how we would react if that happened to us! We all agreed we would be quite surprised, excited and Ethan even suggested a fantastic word – 'puzzled'. We then made predictions on where we thought the penguin might have come from. We had ideas such as the icy water of Antarctica, the zoo and even the warm waters of Africa! We had a go at drawing the settings we thought the penguin could have come from and then explained our thinking.

A big warm welcome to Harry who joined Jellyfish class on Monday and has settled in super quickly! Well done to all of Jellyfish class for being such wonderful friends.
Well done to our Gold Book winners of the Week:
1. Noah F for working exceptionally well to complete his maths and english work independently.
2. Zaynah B for excellent engagement and work on finding parts of a whole in maths
Well done to our Reader of the week:
Beau R for setting a fantastic example reading aloud to the class.
Well done to our Star of the Week – JESSICA!
Week 5
Another hardworking week in Jellyfish class!
In maths we are looking at subtraction by partitioning groups of objects by their features. If we know that there are 8 stars all together, and 2 of them are big, how many are small? We can find this out by subtracting or 'eliminating' the known part. We subtract the 2 to find out how many are small!
In English we have started to plan our very own set of instructions on how to decorate a toy. We have chosen trains, fairies, robots and cars! We are using all the skills we have learnt to make sure we include all the right features to make a fantastic set of instructions.
In our topic lessons we have explored light! We discussed what light is, what we use it for and where it comes from. We then looked at some man made objects that produce light such as torches, fairy lights and light bulbs. We made a poster that shows everything we learnt. It was super fun as we shut all the blinds and turned off the classroom lights so we had to use torches and fairy lights to do our work!
Our Christmas show rehearsals are continuing brilliantly. The children are working so hard and looking and sounding fantastic. We can't wait for you to see it!
Well done to our Star of the Week – Ethan.
Well done to our reader of the week Max E who has been reading at home multiple times every day, quickly filling up his reading record and moving him up to blue level!
Our gold book winners this week are Esme M and Lilia W
Well done Esme for approaching everything you do with 100% effort and a huge smile! And well done Lilia who has shown tremendous confidence this week in contributing to our class discussions!
Week 6

This week we have achieved so much!

In maths we are becoming more and more confident in partitioning groups of objects and using subtraction to find the missing part.

In English we have written our own set of instructions and 'published' them on posh pink paper! The children worked hard to remember to include all of their new writing skills.

We have also discussed this week what the word 'disappointed' means as it came up in our shared reading of Lost and Found. We talked about times we may have felt disappointed and then came up with some other words that could also be used to describe that feeling.

After weeks of hard work practicing our singing, making our costumes and learning our lines, we finally performed our 'The Elves and the Toymaker' Christmas performance! We hope you enjoyed watching just as much as we enjoyed preparing it for you. Well done to all the children for your positive attitude and resilience towards putting on a fantastic show!

Preparations for Christmas are well underway with the year 1 corridor slowly becoming a Winter Wonderland! We have been doing lots of arts and crafts and definitely deserve some glitter-fueled fun after all of our hard work this term. Only 2 weeks to go then a third of year 1 is over already!! Let's make the most of it – it's moving way too fast!
Well done to our reader of the week Karolina for her fantastic blending!
Gold book winners this week are Liam H for fantastic resilience in maths and Tyler-James T for putting extra special effort into all his work this week.
Week 7
This week in year one has been lovely. We have spent some time preparing for Christmas by making decorations to put around our classroom and the year 1 corridor and we have also done lots of arts and crafts.
We have made some Christmas character pegs from scratch using lots of different materials! We have reindeer, Santa, Christmas trees and Snowmen! The children have worked hard to use Creative Christoph in preparing these bits for our Christmas Fayre and we can't wait for you to see!
This week we have done lots of RE looking at the Christmas story and learning all about what Christians believe and why we celebrate Christmas. We have thought about candles, what they are used for and designed our won. We also made our own Christingle oranges to celebrate.
Well done to our Reader of the Week Tyler-James for reading beautifully to me.
Our Gold Book winners are Sophia B for her unfaltering efforts in her learning and Beau R for being such a kind and helpful friend to all.
One week to go!
Week 8
Well Jellyfish class we have made it! We have completed a very long, very hard working term and I think a good break over the holidays is just what we all need.
We have all settled fantastically into year one life and are ready for the challenges ahead of us in the Spring term.
This week has been packed full of fun! On Tuesday we had our Christmas party where we were all dressed to the nines in our best clothes. We took part in different games including pin the carrot on the snowman, throw the ring on the reindeer and paper cup snowman bowling! We then had a disco in the hall where we showed off our best moves, had some party snacks and were then visited by the man himself, Santa! He gave us all a gift each!
The children have made some fantastic 2018 calendars in the theme of Jellyfish and have also made some lovely Christmas cards! At Northern Parade we strongly encourage the creativity and uniqueness that each child has to offer so they had complete freedom in designing and making their bits.
A big well done to our Gold Book winners; Thomas for his dedication to improving his handwriting and Jessica for the pride she takes in her work. Our reader of the week is Lilia for her fantastic progress!
Have a lovely, chilled and joyful break – you deserve it. Thank you ever so much to families for all of your support this term.
Have a very Merry Christmas and a Happy New Year!!
See you on January 8th!
Spring Term 1
Week 1
This week we've jumped back into our year 1 journey with fantastic enthusiasm. The Christmas break has given us plenty of rest and we have all hit the ground running!
In maths we have had a lovely week looking at 3D shapes. We have all remembered our shape knowledge from foundation and are now confident in naming 3D shapes! Some of us are even able to discuss the properties, using language such as 'vertices' and describing the similarities and differences between each shape.
In English we were introduced to our new class text – Snow White! We had to guess what the story was by looking at different props as clues, including a red bow, a dress and a poisoned apple! We have explored lots of traditional tales and it has been really fun to share what we know about lots of classic stories.
Our new topic was introduced to us on Tuesday afternoon when the teachers received an email with a video attached of a dragon that had been spotted on Butser Hill! It was a bit scary at first but we found out that the dragon is friendly, like our value dragons, and needs our help in learning all about castles! We went into the hall to find a complete mess where the dragon had burst through the wall to leave us some clues! Amongst the carnage were some knights clothing, dragon scales and cups that you might find at a banquet! We are really looking forward to exploring our new topic; 'Once Upon a Time..'
Our reader of the week is Honey-Bow B who is showing fantastic progress.
Gold book winners this week are Mustafa R and Oliver F, both for their fantastic engagement and contribution to our lessons.
Week 2
This week in Jellyfish class we have worked really hard.
In maths we have moved onto 2D shape, recognising that 2D shapes are the faces we see on 3D shapes. We have completed lots of fun activities such as shape hunting, tangrams and line drawings!
In English we have worked lots on powerful language in order to write setting descriptions. We wrote one as a class about a deep, dark cave and then applied what we had learnt into our own description about a magical rainforest. We worked super hard and are remembering to use our everyday English tools such as capital letters, full stops and finger spaces.
In topic this week we have investigated the different parts found in a castle. We made predictions about the purpose of each feature, such as the moat and drawbridge, and then learnt about new parts we hadn't heard of.
Well done to our Reader of the Week Carys J for her fantastic comprehension.
Gold book winners are Harry C for his lovely setting description and Max E for working so hard on his writing all week.
Week 3
In Jellyfish class we are continuing to work hard and apply new skills.
In maths we have gone back to looking at numbers in and out of context. In English we are still using powerful adjectives to describe settings in stories.
Our topic is getting more exciting as we investigate castles even more. Only 2 weeks left to half term and half way through year 1!
Well done reader of the week Dakota-Blue for being resilient when reading tricky words. Gold book winners are Lilia Wagg for working hard and challenging herself in maths, and Carys Jones for challenging herself to use exceptional language in English.
Have a great weekend.
Week 4
Another fantastic week in Jellyfish class.
We are really knuckling down and the progress is becoming very clear.
This week we have explored teen numbers in maths and characters in our English.
A reminder please that parents should be checking bookbags for homework/letters and reading books & records must be in school daily.
A sad day on Friday saying goodbye to 2 lovely members of Jellyfish class; Thomas and Bobby. You both have been such a pleasure to teach and a joy to be around everyday. Thank you for everything you bought to Jellyfish class this year, you will be missed! Good luck in your new school, they are very lucky to have you.
See you Monday for one last week before half term.
Week 5
Well Jellyfish, we have officially made it half way through year 1! You have all worked so hard and should be very proud of yourselves - you have come a long way!
In our writing we have continued to apply our previous skills with our new skills. We have been looking at traditional tales and have written a setting description and a character description! We have used lots of powerful language in order to describe our settings and characters brilliantly. After half term, we will continue working through the theme of fairytales, but through a non-fiction perspective. We will be looking at non-chronological reports!
In maths we have worked our socks of to improve our number sense and go deeper into understanding the building of 2 digit numbers. We are beginning to solve calculations in different ways using different methods we have learnt.
Our topic has been fantastic this half term - Once Upon a Castle! We have looked at all things castle related and learned lots about people that live in castles, how they are protected and how they lived differently to us! We will continue this after half term.
Well done to our reader of the week Karolina M who has shown fantastic independence in learning unknown sounds and using them to blend new words together. Our gold book winners are Sophia Boyd for her fantastic writing of a character description and Amelia King for challenging herself across all her learning.
Have a great break and see you in the second half of year 1!
Miss King
Spring Term 2

Week 1
Jellyfish are continuing to work their socks off in year 1!
In maths we have been looking at what happens when we increase/decrease a number and are beginning to strengthen our skills of calculation and reading/writing number sentences.
In our English lessons we are continuing to learn and apply new sounds from our phase 5 phonics and notice these in words all around us. We have begun to look at non-fiction writing through non-chronological reports. We started the week exploring reports about different topics and shared our ideas about what we thought the purpose was for this type of text. We then looked at a non-chronological report about Little Red Riding Hood and discussed the tools and features used, leading us on to planning and writing our own non-chronological report about a different fairytale character.
In topic we have been looking at directions, and using words like north, east, south and west to describe a journey from one point to another. We also discussed the difference between human and physical features in the environment around us, sorting things like lakes and bridges into the correct category.
Well done to our reader of the week Lilia Wagg for fantastic dedication to her reading!
Our gold book winners this week are Noah Fletcher for making fantastic choices and Justin Harris-Steward for solving tricky calculations with great resilience.
Well done Jellyfish!
Miss King
Week 2
We've had a lovely week in Jellyfish class! Our second parents evening of the year has been and gone and it was lovely to see you all and share all the amazing work and progress that has been happening throughout the year.
In our maths we have continued to look at increasing amounts, and are becoming more and more confident in adding larger numbers. Our reasoning skills are improving and we are beginning to see relationships between 1 and 2 digit numbers, and how we can use smaller number facts to help us solve larger calculations.
In English we finished writing our non-chronological report on a fairy tale character, with some fantastic writing about Goldilocks, Baby Bear, Grandma and The Little Pigs! We are now moving on to writing a class report about castles, using all we have learned in our topic lessons to share some fantastic facts and information.
In our reading lessons we have been introduced to just the title of our new class text - The Lion Inside. We were then asked to discuss what we thought the story might be about and make a prediction!
On Thursday we had a session with our eco warrior Doctor Collins learning all about forces. We heard the stories 'Duck in a Truck' and 'The Giant Turnip'. We then went outside for a game of tug of war! We talked about the materials that would be best to use for the game and decided that rope would work much better than toilet paper! We tested different competitions including boys VS girls, tall VS short and even 3 children VS Dr Collins! We had a lovely time.
Well done to our reader of the week Noah Fletcher who has shown his enjoyment of different types of books by bringing his favourite book in to share with us.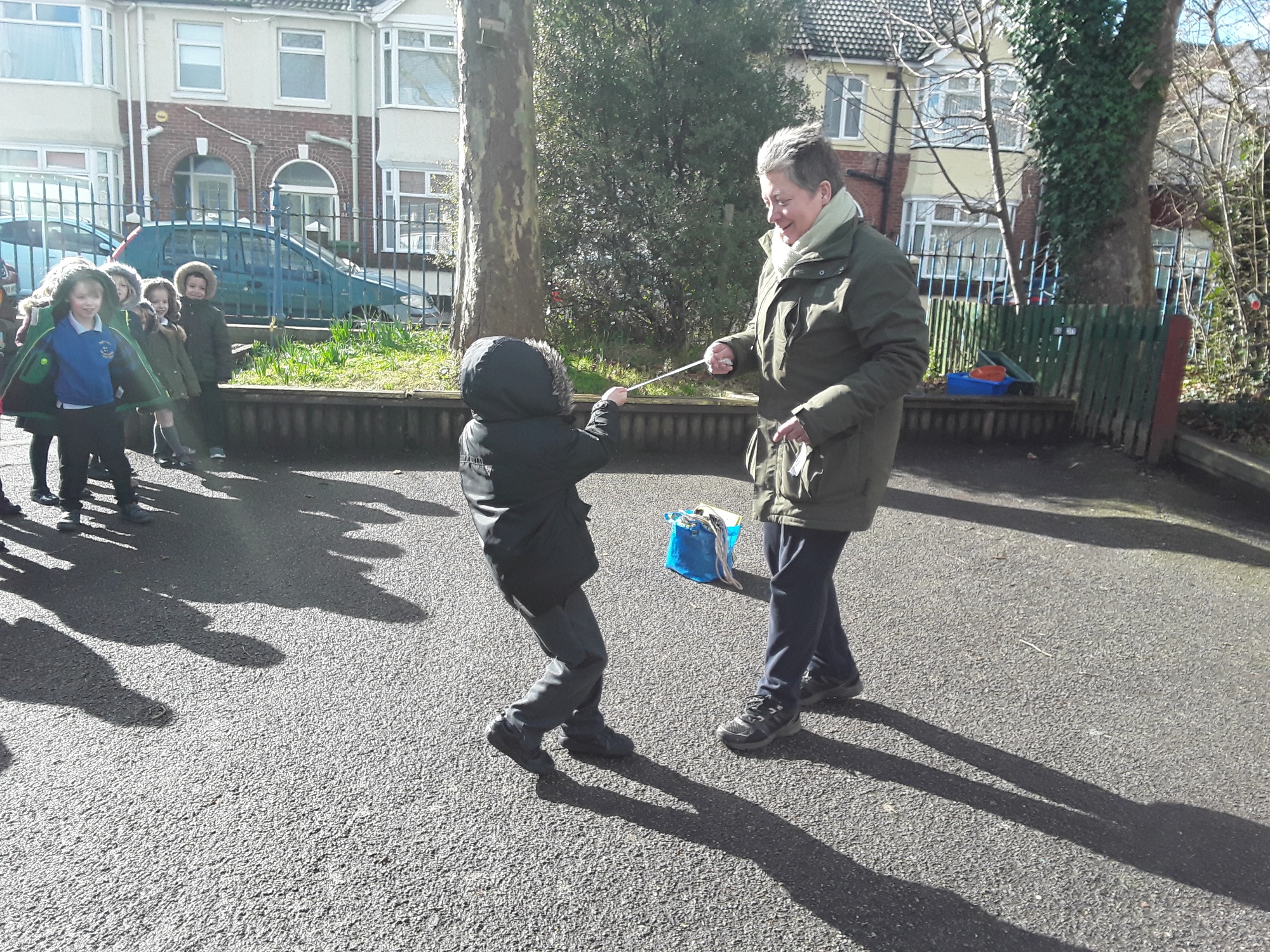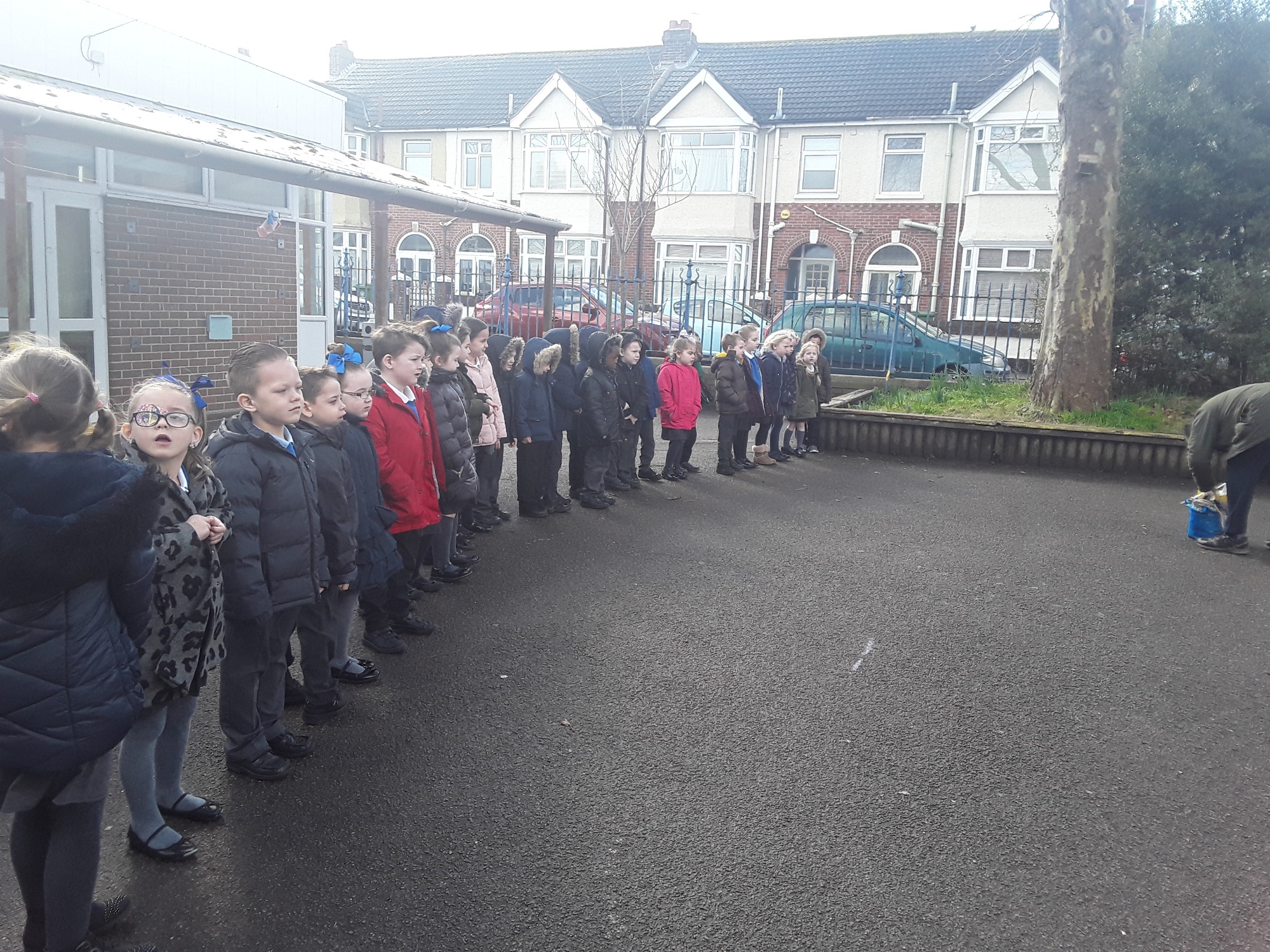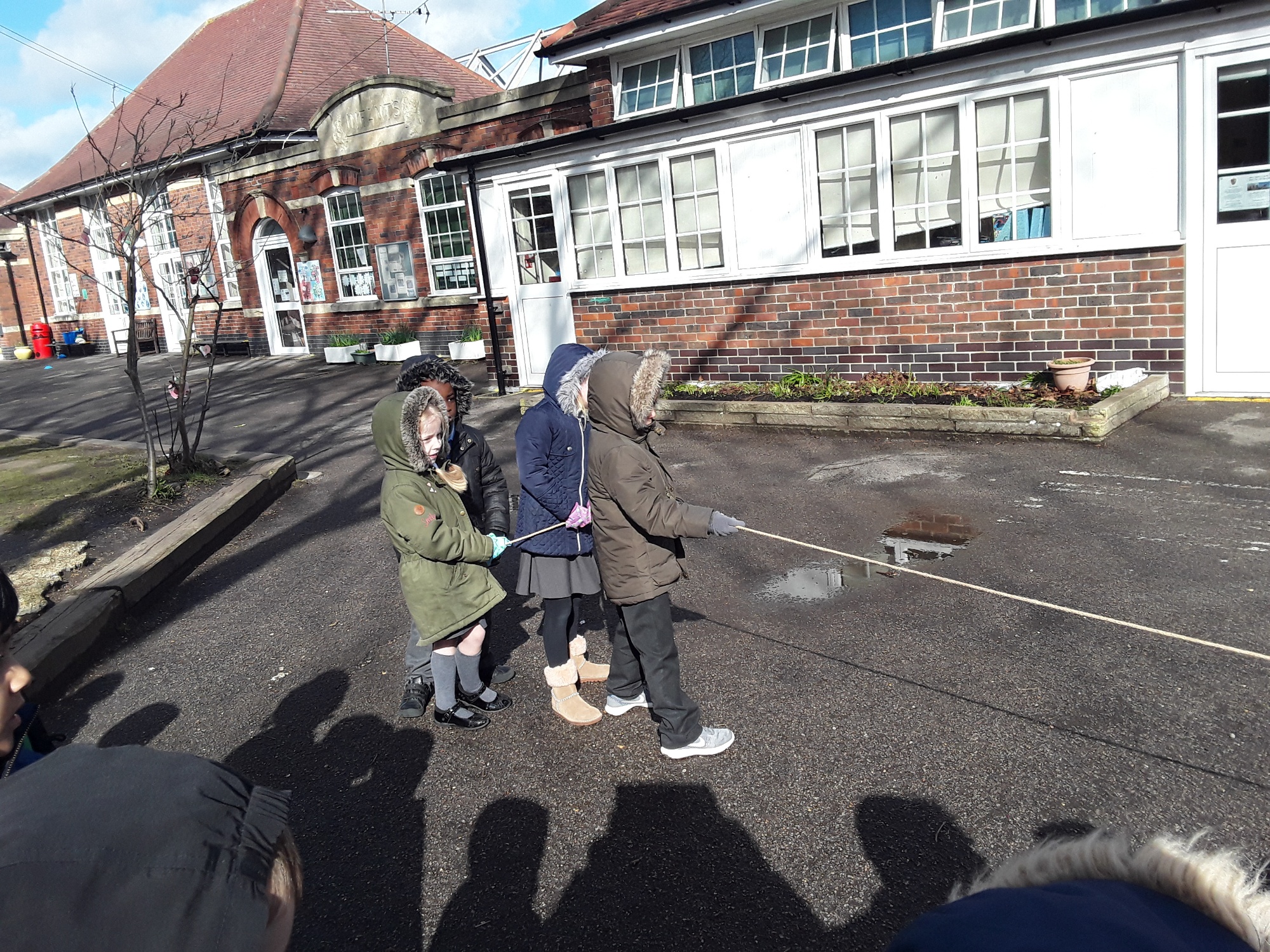 Gold book winners this week are Lily Thompson for her resilience in phonics and Daniel Wright for his lovely writing.
Have a great weekend,
Miss King
Week 3
A lovely week in year 1 welcoming our very new Jellyfish, Maddie-May. Well done to everyone for being so kind and caring.
In maths this week we have challenged ourselves further by looking at commutative calculations, odd and even numbers and grouping ones into tens. Next week we will explore multiples of 10.
In English this week we planned and wrote a non-chronological report about a minibeast that we created. We used lots of adjectives and talked about the different sentence starters we could use to make our writing more exciting.
Our new topic, Blooming Marvellous, has been so exciting. Our class caterpillars are now in their cocoons and we are just waiting for them to turn in to butterflies!
Well done to our reader of the week Oliver, who worked hard to use his sounds in phonics. Gold book winners are Noah for sharing some fantastic facts about our world and Mustafa for working so hard to practise his letter 'd'.
Week 4
This week in Jellyfish class we have stepped up our game in maths! We are now exploring multiples of ten, and can verbally reason how they are constructed and comparing them to each other. We have practised applying this in different contexts including grouping pennies together and exchanging them for 10 pence coins.
In our English lessons we have begun looking at the traditional tale, Jack and the Beanstalk. We have spent the week drawing a story map and learning actions to help us remember the story and any interesting vocabulary, so that we can apply it in our own writing. Our reading is really coming along, and lots of Jellyfish are working hard to move up to the next reading level. Reminder - daily reading at home can have amazing results! Lots of Jellyfish have made unbelievable progress this year by making the extra effort to immerse themselves in reading both in and out of school. Thank you for your ongoing support! Last week we had 12 children on the reading dragon for reading 5+ times in a week at home.. can we beat it?!
In our topic lessons, we have been learning all about the countries within the UK. We have explored the story behind the dragon on the Welsh flag, the mystery of the Loch Ness Monster, Northern Ireland's role in the construction of the Titanic and popular tourist attractions in England such as Big Ben and the London Zoo. We have also practised our painting skills by creating observational paintings of flowers. We explored different brush strokes, colour mixing and even various tricks to create different effects in our paintings. Our topic 'Blooming Marvellous' is becoming more and more exciting as our caterpillars are all tucked in their Chrysalises for their journey to becoming butterflies! Some of the other classes in year 1 have already witnessed the amazing outcome of them emerging and stretching their wings but the ones in Jellyfish class are still snoozing and will hopefully be out soon! We have talked about the phenomenal process that happens in the life cycle of a butterfly and watched a time-lapse video that has given us an idea of exactly what is happening inside the cocoon.
Well done to our Reader of the Week Amelie who has worked effortlessly to improve her fluency and confidence, resulting in her moving up a reading level!
Gold book winners this week are Addison for wonderful creativity and independence in his observational painting of a flower and Dakota for challenging herself in maths, both in her Big Maths 'Beat That!' test and and showing resilience when grouping ones to create tens in different contexts!
Have a lovely weekend,
Miss King