Monday to Friday
MORNING SESSIONS: 7.30-8.45am
AFTERNOON SESSIONS: 3.00-5.45pm
---
At club the children enjoy a variety of indoor and outdoor activities.
The children organise their own activity lists and know that they can only go on popular activities for twenty minute intervals.
There is a quiet area for the children and a television corner with comfy settees. We are lucky at club to be able to utilise the Junior School playground, outdoor equipment and a grass area after School – these are used everyday weather permitting.
There is also plenty of adult support for those children wishing to complete homework tasks or revise for spelling tests.
What we have on offer: Construction, Lego, Arts and Crafts, knitting and sewing, role play area, Computers, Wii, Notepads, Football table, Table Tennis table, Snooker/Pool table and climbing frame.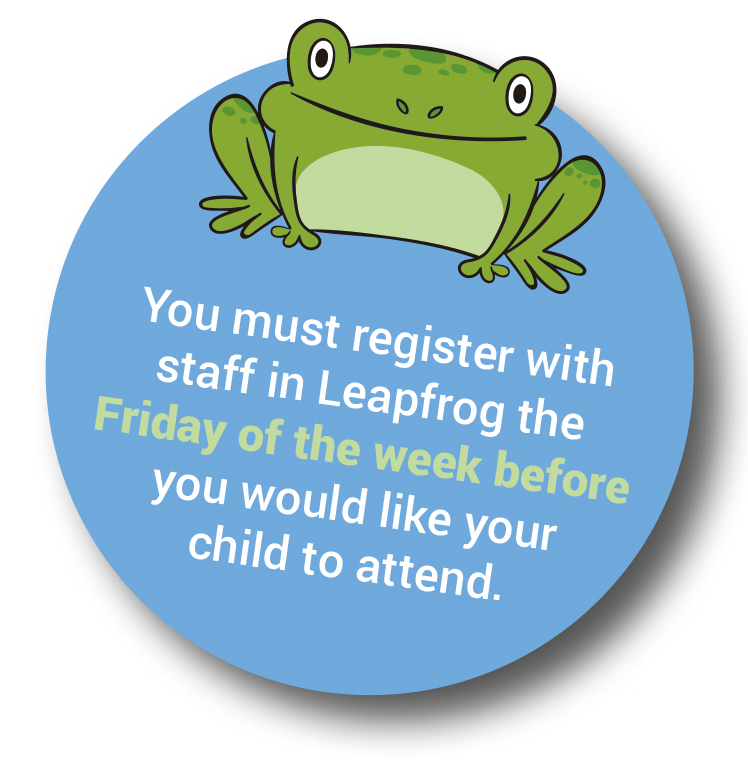 REDUCED RATE

To take advantage of our reduced rate you would need to pay on the day of booking.

NORMAL RATE

If payment is made on any other
day the booking

Breakfast Club

After School Club

Breakfast Club

After School Club

£4 per child

£7.50 per child

£4.50 per child

£8 per child

A breakfast and teatime snacks provided for each child.

If you have any questions please contact Mrs L Vince: 02392 662596
---
How Leapfrog started
Leapfrog breakfast and after school club was formed in September 1998 and has proven very popular, from starting with just a few children we can now take up to 50 (4 to 11 year olds).
The club was originally run by a committee but since January 2007 the Club has been run by Northern Parade Infant School Governors, subsequently Northern Parade School's Governing Body (since Federation in 2010).
At Leapfrog we aim to:
provide a welcoming and all inclusive club for all children, which Parents are confident in using.
an environment in which children's personal, social and educational development can flourish.
a safe, caring and enjoyable place of play.