Parents' Opinions of Mathematics Teaching at Northern Parade
A questionnaire was sent out to all junior school parents on 12th March to gauge opinions of maths at our school. 100 parents responded.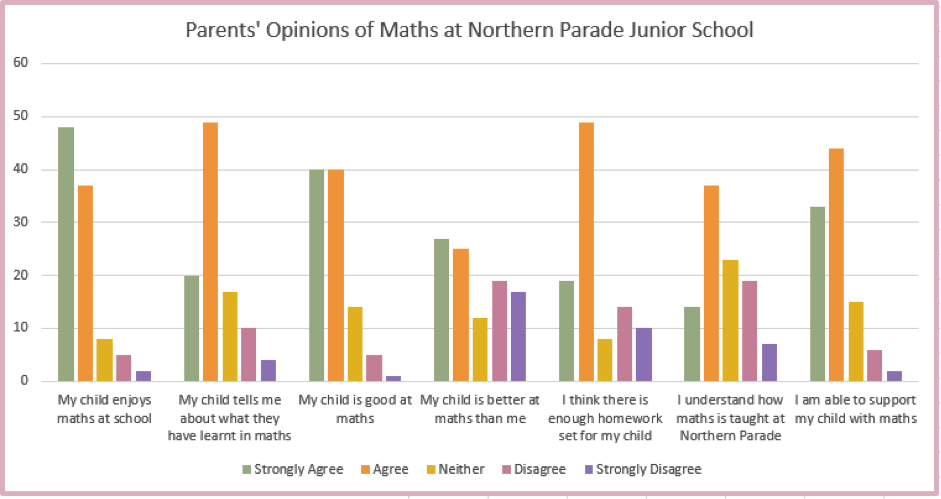 Positive comments from parents:
My child enjoys maths. She loves TT Rockstars but she can struggle, but she's always trying hard.
Have learnt a couple of tricks today after attending the SATs workshop with Mrs Byrne.
My son is more natural at maths than me and enjoys being challenged at school and at home with maths.
My son is amazing at maths and loves every lesson, and it shows greatly as his confidence is brilliant.
The teachers are obviously doing a very good job as my child doesn't require any assistance from me.
Good to hear that my son comes home from school to talk about how he loves maths and he's enjoying it. Very proud of him.
My child likes the Rockstars app.
My child loves maths and particularly the arithmetic tests. Keep it up because you are obviously doing it right for him. Thank you.
Things we could be doing better:
I would like to see more maths homework.
More teaching aids for parents would be a great help in order for us to help with the children.
Sometimes it would be good to have examples for homework.
I feel more parent child workshops need to be made available.
Would be great to know the methods used to teach the children maths so that we can support them better at home.
Homework set online would be a good idea so it does not get lost.
The Rockstar app is good but there are never reminders for it.
I would prefer a maths homework book - similar to the Letts/Scholastic type book - to work through across the year. The odd maths exercises sent home have no context or indication of how the subject is being taught or how questions should be answered. A dedicated book also allows topics to be referred back to, which promotes discussion.