Curriculum Statement
As the two schools of Northern Parade Infant and Junior School have come together as a Federation and as part of King's Group Academies Multi Academy Trust from February 2018, it has been important to align policy and practice. This has taken many forms but the most important being focused on what makes the most difference to the pupils – what is taught, when and why. The curriculum is now seen as a progression from Yr R to Yr 6, with consideration of the experiences that our pupils will have had before even starting school, 'endpoints' along the way and the future education and careers they will have in secondary and beyond.
The development of the curriculum at Northern Parade has aligned with the changes to the Ofsted Inspection framework, research and a new focus on the importance of the curriculum and its impact on pupil outcomes. This thinking forms the new 'Quality of Education' judgement within the Education Inspection framework and sets out Intent, Implementation and Impact.
Intent: The setting out of the knowledge and skills that pupils will gain at each stage
Curriculum design, coverage and appropriateness
Implementation: The way the curriculum is taught and assessed in order to support pupils to build their knowledge and to apply that knowledge as skills
Curriculum delivery
Teaching (pedagogy) – contribution to delivering the curriculum as intended
Assessment (formative and summative)
Impact: The outcomes that pupils achieve as a result of the education they receive
Attainment and progress (including national tests and assessments)
Reading
Destinations
English
At Northern Parade we deliver an English Curriculum that promotes high standards of language and literacy by equipping pupils with a strong command of the spoken and written word, and to develop their love of literature through widespread reading for enjoyment.
We aim to ensure all pupils:
Read easily, fluently and with good understanding
Develop the habit of reading widely and often, for both pleasure and information
Acquire a wide vocabulary, an understanding of grammar and knowledge of linguistic conventions for reading, writing and spoken language
Appreciate our rich and varied literary heritage
Write clearly, accurately and coherently, adapting their language and style in and for a range of contexts, purposes and audiences
Use discussion in order to learn; they should be able to elaborate and explain clearly their understanding and ideas
Are competent in the arts of speaking and listening, making formal presentations, demonstrating to others and participating in debate.
Writing
We have a whole School approach to the teaching and learning of GAPS and sentence level work. Skills are progressive and taught throughout the year as part of each English block.
To support and inspire children's writing and encourage a love of literacy we use 'Talk 4 Writing' as a creative tool.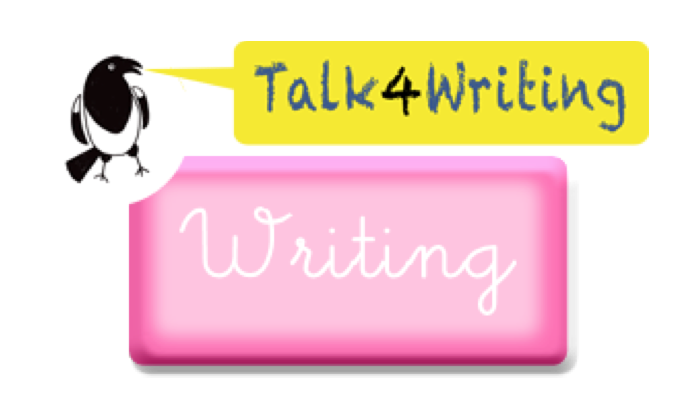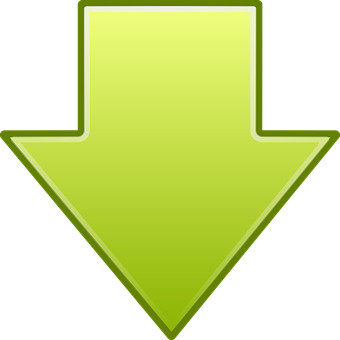 Reading
Click here to find out how we teach Phonics...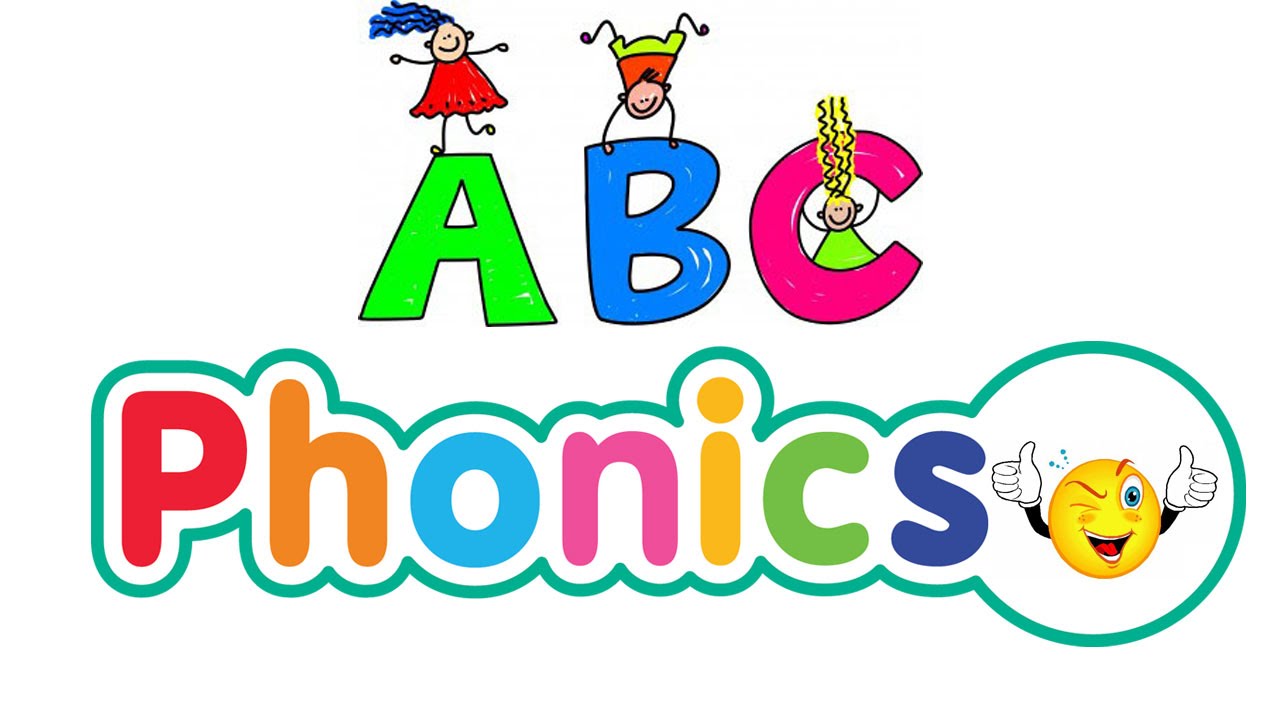 Mathematics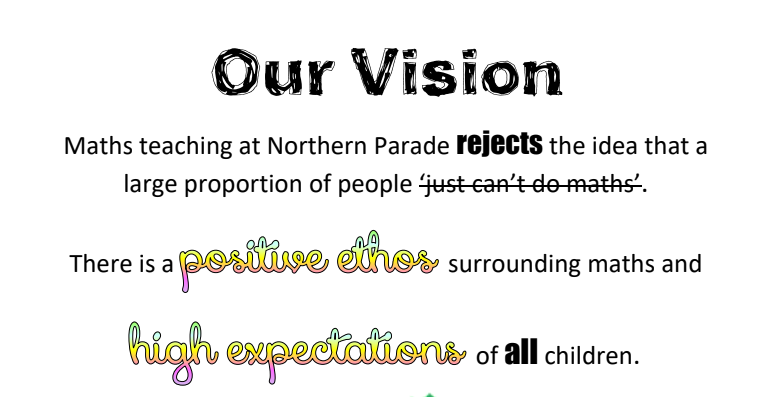 The mathematics curriculum is divided into seven strands:
Number and place value
Addition and subtraction
Multiplication and division
Fractions
Measurements
Geometry
Statistics (Year 2 onwards)
Northern Parade's policy for mathematics is based on the National Curriculum Programme of Study for Mathematics. It aims to ensure that all pupils:
become fluent in the fundamentals of mathematics,
reason mathematically by following a line of enquiry,
can solve problems by applying their mathematics to a variety of routine and non-routine problems.
Class teachers provide daily maths lessons for at least four days a week. Additional maths is taught when there are links to other subjects, so that pupils can develop and apply their mathematical skills. Homework is provided for children to practise and consolidate their skills and knowledge, to develop and extend their techniques and strategies and prepare for their future learning.
We are a numicon school
Numicon is a multi-sensory approach, built on a proven pedagogy that raises achievement across all ability levels. Activities utitilise integrated thinking skills across the curriculum linking all learning into applied maths or learning in context demonstrating the 'why' we learn maths.
Science
A high-quality science education provides the foundations for understanding the world through the specific disciplines of biology, chemistry and physics. Science has changed our lives and is vital to the world's future prosperity, and all pupils should be taught essential aspects of the knowledge, methods, processes and uses of science. Through building up a body of key foundational knowledge and concepts, pupils should be encouraged to recognise the power of rational explanation and develop a sense of excitement and curiosity about natural phenomena. They should be encouraged to understand how science can be used to explain what is occurring, predict how things will behave, and analyse causes.
Aims
The national curriculum for science aims to ensure that all pupils:
develop scientific knowledge and conceptual understanding through the specific disciplines of biology, chemistry and physics
develop understanding of the nature, processes and methods of science through different types of science enquiries that help them to answer scientific questions about the world around them
are equipped with the scientific knowledge required to understand the uses and implications of science, today and for the future
The principal focus of science teaching in key stage 1 is to enable pupils to experience and observe phenomena, looking more closely at the natural and humanly constructed world around them. In key stage 2 the science curriculum is divided into four parts
life processes and living things
materials and their properties
physical processes
experimental and investigative science
History
History is incorporated into the children's topic studies, which inspires their curiosity to know more about the past.
In Key Stage 1 children learn about the lives and lifestyles of significant individuals and events within and beyond living memory. In Key Stage 2 pupils continue to develop a chronologically secure knowledge and understanding of British, local and world history. Children should ask questions and use methods of historical enquiry using a wide range of historical sources.
Geography
Geography is another subject amalgamated into their topic studies. In Key Stage 1 pupils investigate their locality, an area within the United Kingdom and a small area in a contrasting non-European country. In Key Stage 2 pupils extend their knowledge to include Europe, North and South America. Pupils will use geographical skills including first hand observation, maps, atlases and globes. Children will locate countries, counties, cities, regions and topographical features and land use patterns. We aim to foster children's sense of wonder at the beauty of the world around them.
The Arts

A high quality art and design education should engage, inspire and challenge pupils, equipping them with the knowledge and skills to experiment, invent and create their own works of art, craft and design.
At Northern Parade our art and design curriculum aims to:
Produce creative work
Become proficient in drawing, painting, sculpture and other art, craft and design techniques
Evaluate and analyse creative works using correct terminology
Know about great artists, craft makers and designers
Music

Music is a universal language that embodies one of the highest forms of creativity.
A high quality music education should engage and inspire pupils to develop a love of music and their talent as musicians, and so increase their self-confidence, creativity and sense of achievement.
At Northern Parade we ensure that all pupils:
Perform, listen to, review and evaluate music.
Learn to sing and to use their voices, to create and compose music.
Understand and explore how music is created.
The Infant School are part of the Portsmouth Music Hub partnership and participate in various events and activities throughout the Academic Year. Visit the Music Hub website and facebook page for local music news and updates on local events.
Northern Parade School has a long tradition of musical activities, offering considerable opportunities for children to develop their talents in all aspects of music including composition, singing and appreciation across many musical genres. They have an opportunity to experience a wide variety of musical instruments and musical styles. With two permanent music teachers at the school, each pupil attends a one-hour music lesson per week. Northern Parade are able to offer lunchtime and after school clubs; these are a favourite with the pupils, and include: drums, recorders, choir, steel pans, djembe drums, keyboards and a rock band. There are also visiting peripatetic teachers for various other instruments, such as ukuleles. The children are also encouraged to perform at a range of local concerts.
Northern Parade are the only school in Portsmouth to have their own Steel Orchestra which plays in the public arena in and around Portsmouth.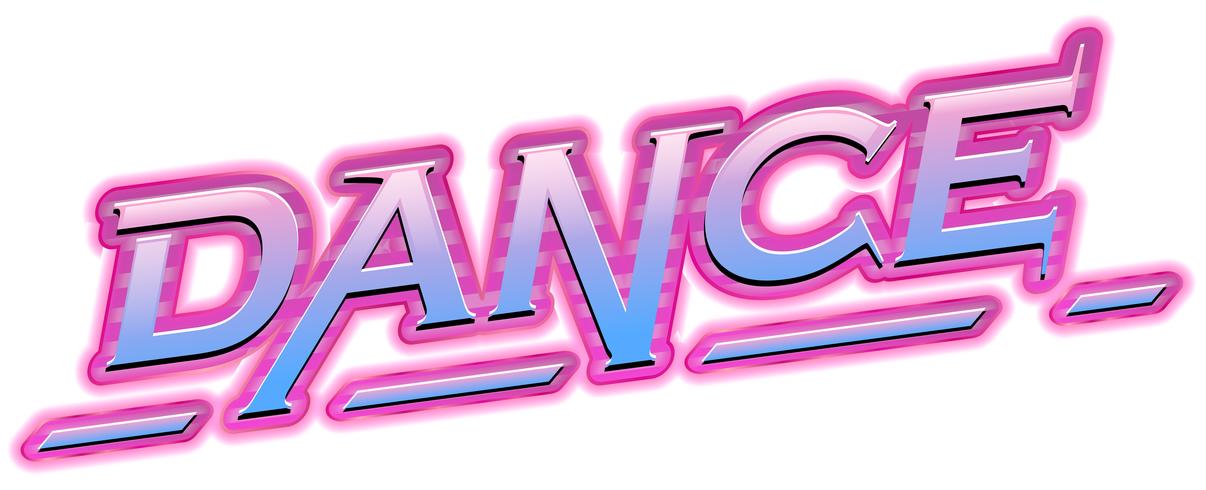 Dance lessons begin at the Junior School with our trained Dance Teacher.
Children are encouraged to learn different styles of dance during their time at Northern Parade. These include:
Modern (Improvisation, choreography)
Ballet
Jazz
Street
Salsa
Country
Partner dancing
Commercial
Greek
Bollywood
Roman
Musical theatre
Line dancing
Basic tap
The children are encouraged to work both independently and as part of a team, looking at basic choreography and developing their own ideas.
Where possible, their dance lesson will be centred around their current topic, for instance Indian styled dancing when learning about India.
The children have the opportunity to combine both their dance and music skills in our school productions. The main production in their time at Northern Parade will take place in Year 3 and Year 4 when the two year groups join together and put on a performance in December. They have another opportunity to perform in Year 6 in their end of school show. Both of these productions are really rewarding experiences and this is where their confidence really grows.
©<a href="https://www.vecteezy.com/"> Vectors by Vecteezy</a>

Design Technology
A high quality art and design education should engage, inspire and challenge pupils, equipping them with the knowledge and skills to experiment, invent and create their own works of art, craft and design.
At Northern Parade our art and design curriculum aims to:
Produce creative work
Become proficient in drawing, painting, sculpture and other art, craft and design techniques
Evaluate and analyse creative works using correct terminology
Know about great artists, craft makers and designers

Physical Education
'Northern Parade School aim to promote physical activity and healthy lifestyles in our PE.
We have specifically designed a Sports PE programme that links with the National Curriculum that allows the children to be able to learn, keep active and have fun along the way.
From Foundation all the way up to Year 6 the children will be taught fair play, honest competition and good sporting behaviour as individual participants, team members and spectators.
Foundation - Year 2
The children will be taught a progressive timetable to improve Agility, Balance and Coordination as well as Ball Skills and Multi Skills. We are looking to develop key life skills as well including strength, mobility and flexibility.
Year 3 - Year 6
The children will be participating in sport related topics.
Sessions are still designed to improve Agility, Balance and Coordination as well as being taught sport specific skills.
Examples of some of the sports related topics are Tennis, Basketball, Football, Kwik-Cricket, Athletics and Hockey.
We also have a fitness topic which allows us to be able to educate the children on not only what an exercise is but what effects it has. Promoting this will involve participating in circuits and allowing the children to design their own one.
At Northern Parade the children participate in a variety of Games, Gymnastic Movement, Athletic Activities all year round and Swimming Lessons in Year 4.
Languages
Why have we chosen to learn Spanish?
It is the third most spoken language in the world.
Spanish is considered one of the easiest languages for a native English speaker to learn.

How do we teach Spanish?
We include all elements of language learning in our lessons. This includes speaking, listening, reading, writing and grammar.
We use our topics to engage our learners in our language learning.
We start lessons with lots of vocabulary warm ups.
We revisit our language lessons throughout the week for example in our registers.
We make links between our language learning and our other lessons.
We use the learning intention labels to help provide scaffolding, evidence and peer assessment to our language learning.
We use the school long term plan to ensure progression across the year groups.
We use Language Angels to help provide lots of fun games and interesting, accurate resources.
How can I help my child further with their Spanish learning?
Talk about what they have been learning- ask them to teach you!
Try watching some of the videos or playing the games on the BBC Bitesize website.
Religious Education
Religious Education is a curriculum entitlement for all children at Northern Parade. We provide opportunities for children to develop their knowledge and understanding of all six major faiths: Christianity, Hinduism, Islam, Sikhism, Judaism and Buddhism. Religious Education does not seek to urge religious beliefs on children or to compromise the integrity of their own beliefs by promoting one religion over another. Children begin to understand and respect different religions, beliefs, values and traditions. We recognise the similarities between religions and each other.
PSHCE
A comprehensive scheme of work covers these very important aspects of the children's education. Topics covered include, 'Growing and Changing', 'Medicines and Drugs', 'Substance Use and Misuse', and 'Rights, Responsibilities, Pressures and Risks'.
Eco Urban Ranger!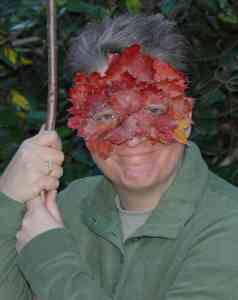 Meet Dr Collins
Our School Eco Warrior!
She comes into School each week to teach the children about nature and the outdoor environment delivering unique and exciting learning experiences linked to term topics.