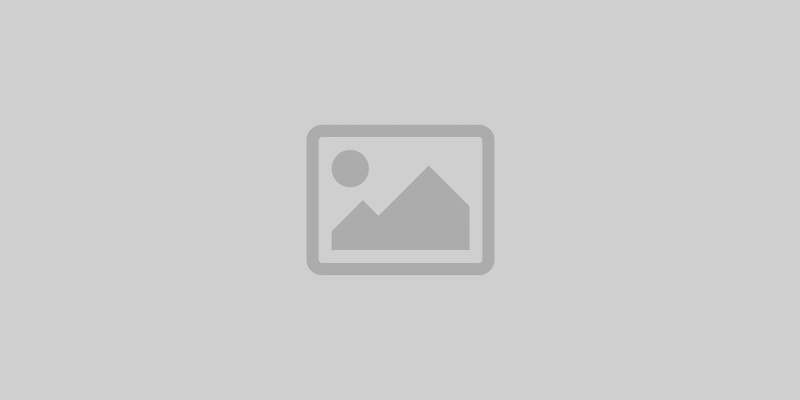 Class Teacher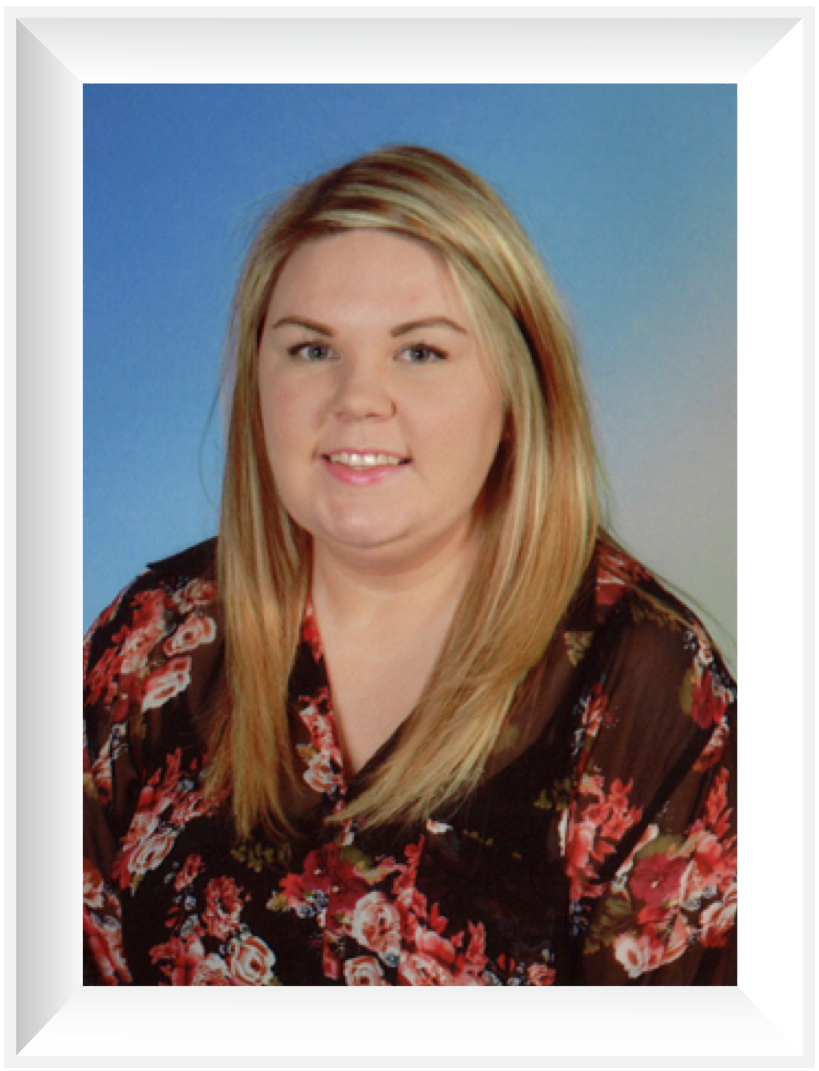 Miss Kane

Congratulations to our Star of the Week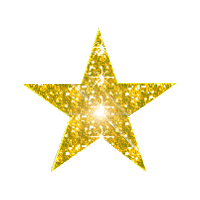 Joel
Gold book winners this week are ...
Autumn Term 1

Week 1

Well done to our Reader of the Week – Jasmine.

What an exciting first week back we have had in Flamingo Class! This week has been our inspirational maths week where we have learnt lots about how to make our brains grow. We have been set lots of challenges where we have had to use our school values such as folding paper to make different shapes and spotting patterns. Why not ask your child one of the ways in which to make your brain grow?

In English this week we have been focusing on our writing skills and how to make the perfect sentence ready for writing stories next week. We have also started learning our first Talk for Write text in Year 2 which is called Grandad's Island. In preparation for writing next weekwhy not ask your child if they can retell the story?Well done for your hard work this week Flamingos, keep it up!
Week 2

On Tuesday we had our topic hook. Before lunch we were given some clues as to what our topic would be about like a passport, sun cream and a ukulele. We had lots of very good guesses such as India, Mexico and Spain.

After lunch the children returned back to find the classrooms had been transformed into a Hawaiian themed party. We drank mocktails, made Hawaiian leis, learnt a traditional dance and played Hawaii games like limbo. It was a lot of fun and we are looking forward to learning more about Hawaii.

We also had a visit from Eco Warrior were we used compasses to follow directions around the school playground.
Week 3
Well done to our Reader of the week – ALFIE!
Well done to our Star of the Week FLORENCE.
This week in topic we started learning about human and physical features. We collected items from around our school environment and
thought about where would we usually find these items and how they got to our school environment. From this we were able to sort items into physical features (made naturally) and human features (man made).
| | |
| --- | --- |
| | When we went to Portsdown Hill we looked at the different physical and human features that were on each side of the hill. As well as racing up and down the hill of course. Why not ask your child what features they found? Did they notice anything about the different sides of the hill? |
Week 4
This week we had our exciting school trip to the Isle of Wight. We were very lucky as the weather was beautiful and we were able to see Portsmouth clearly. During our walk we stopped off to sketch our view of Portsmouth and we were amazed at how much detail we could still see of the Spinnaker Tower. As we continued walking along the beach we discussed all the human and physical features we could see and recorded them on our clipboards. The day involved a lot of walking which Flamingo Class coped very well with. Their behaviour throughout the day was excellent and they should be very proud of themselves. Well done Flamingos!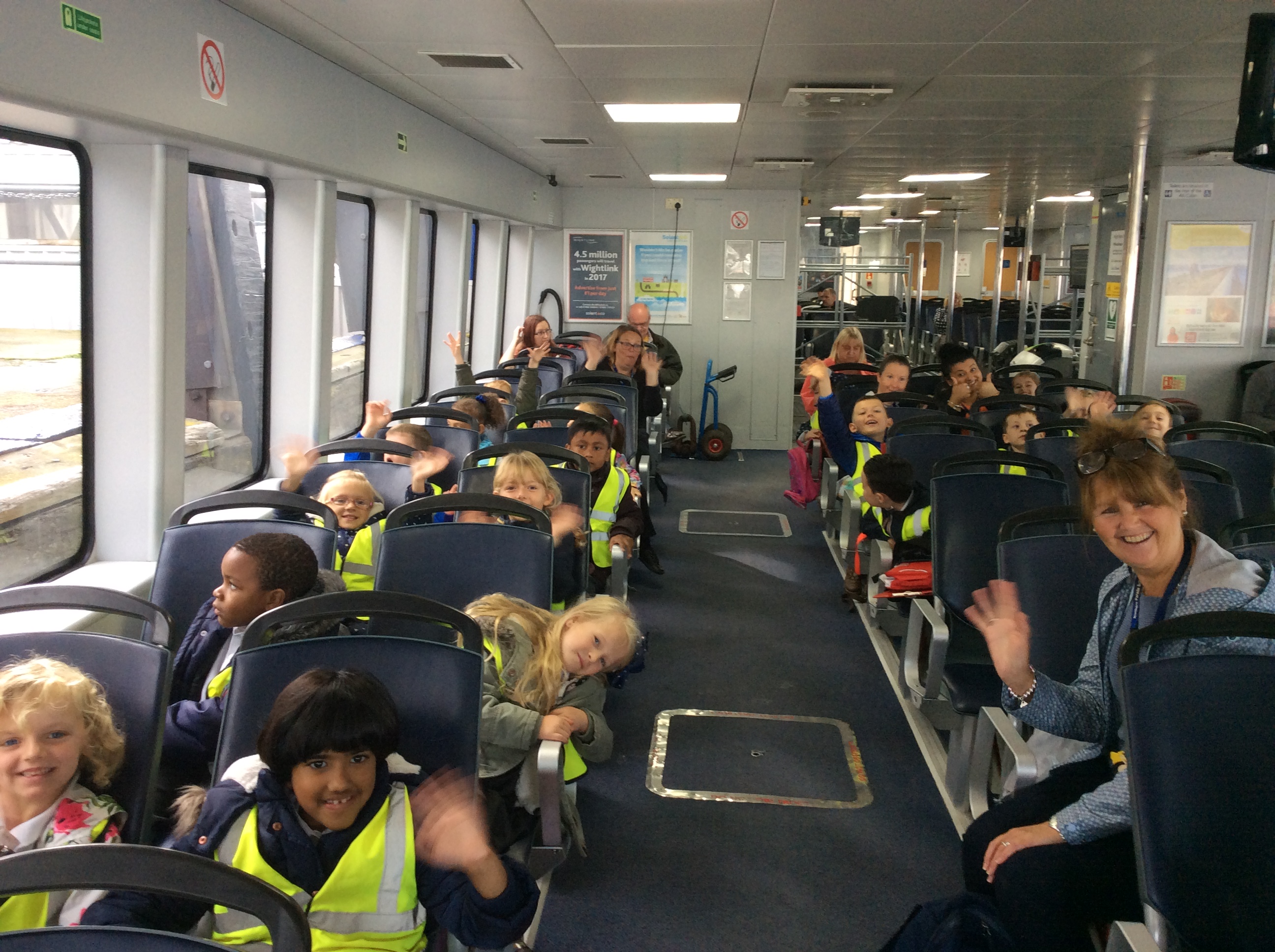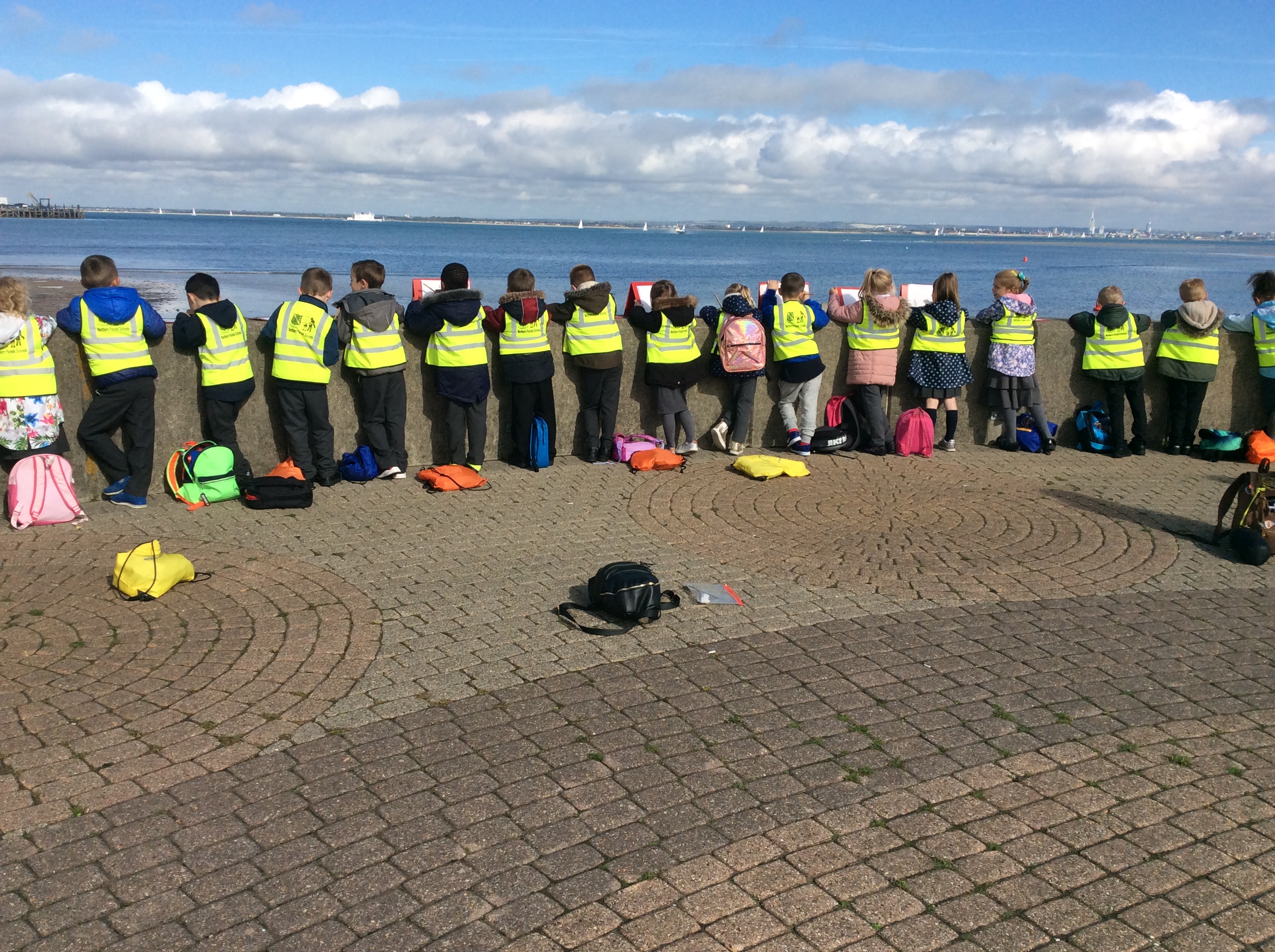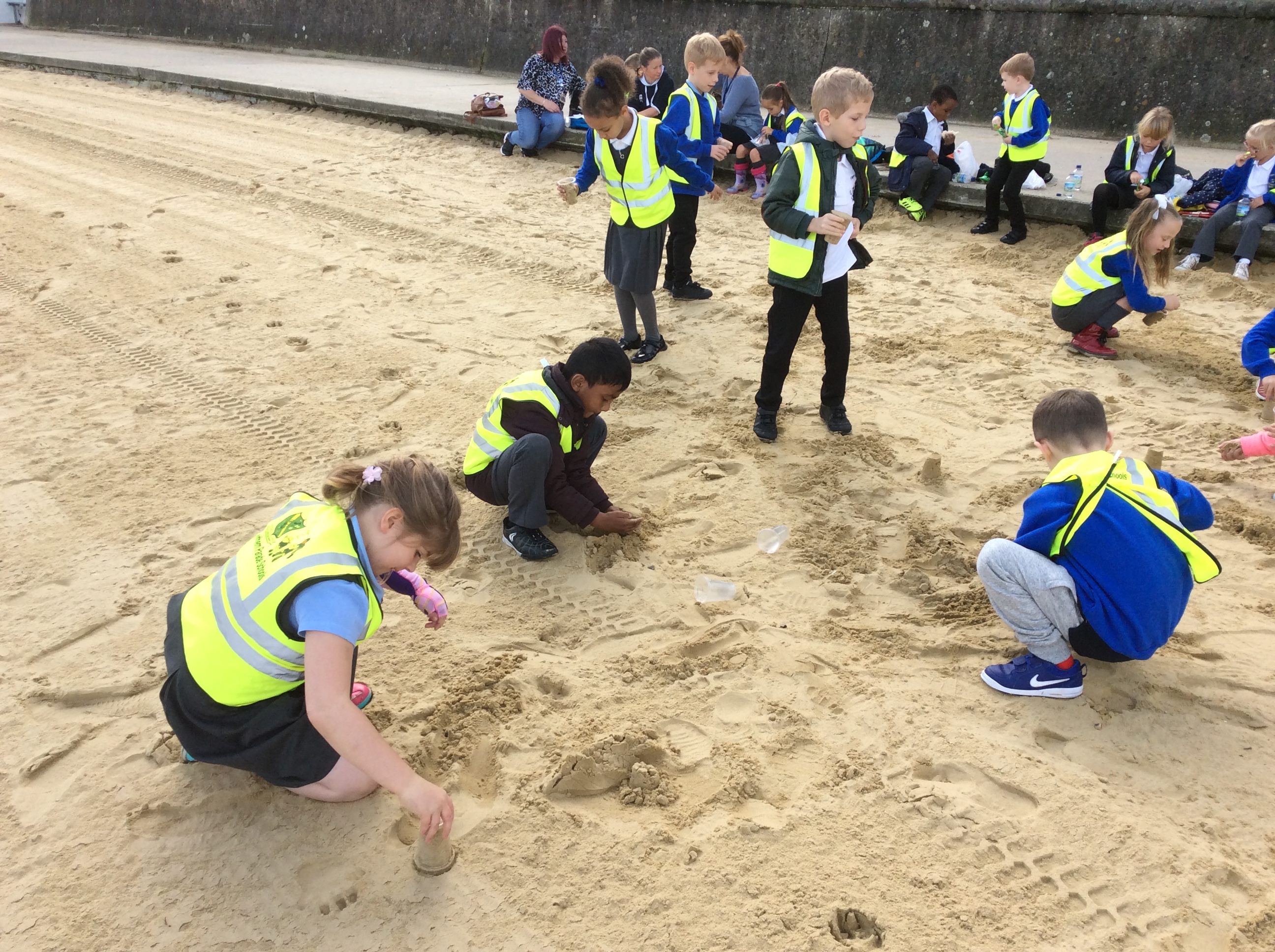 Week 5
Well done to our Star of the Week – Chima!
This week we were given our brand new sketching books. These sketch books will follow us up throughout the school to show our sketching progression. For our first page we decided to draw a detailed self portrait using mirrors.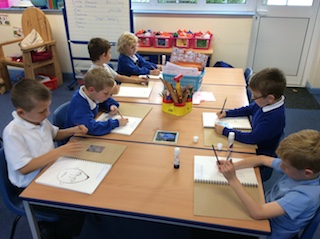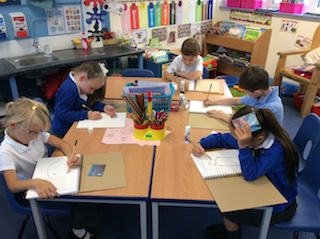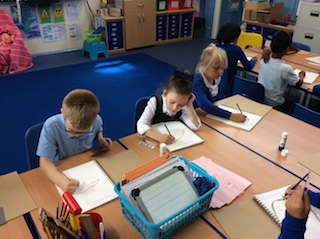 In English this week we invented our own stories and wrote our first assessment write. In maths we looked at number families and their relationships. Why not ask your child how many different ways they can represent the fact family – 12, 4 and 8.
Week 6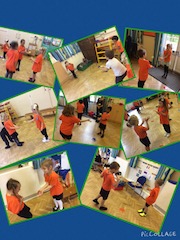 .
This week in English a magical box appeared in our classroom. We discussed what magic meant to us and realised it meant very different things. Before we opened the box we predicted what we thought was inside. The next day we opened the box and were amazed by what we saw! Some of the magical items were a golden bell, some green powder in a glass bottle, a scary mask and a mini rusty key. Why not ask your child what their favourite item in the box was?
In maths we looked at the language of commutative and inverse. We continued to look at number families, thinking about if I know my number bonds to 10 what other facts do I know? For example if I know 3+7=10 if I also know 30+70=100 because I just multiple each digit by 10.
Week 7
Well done to our Star of the Week – OLIVER!
Well done to our Reader of the Week – HALLE!
This week we had a visit from Dr Collins which was a little different from usual. As we were learning the poem 'The Magic Poem' she decided to amaze us with some magic tricks. After putting on a magic show she then showed us the secrets behind how she performed each of the tricks.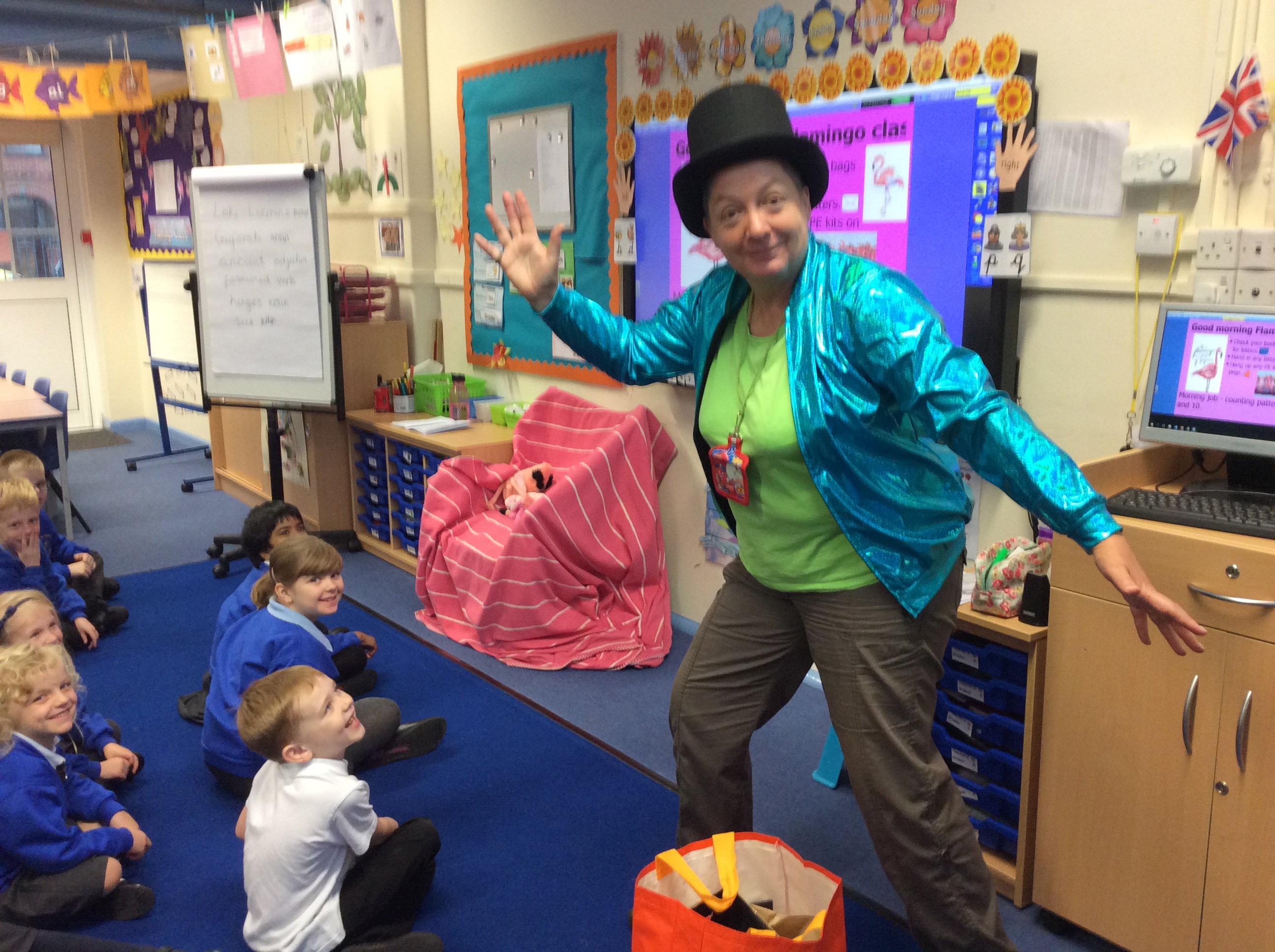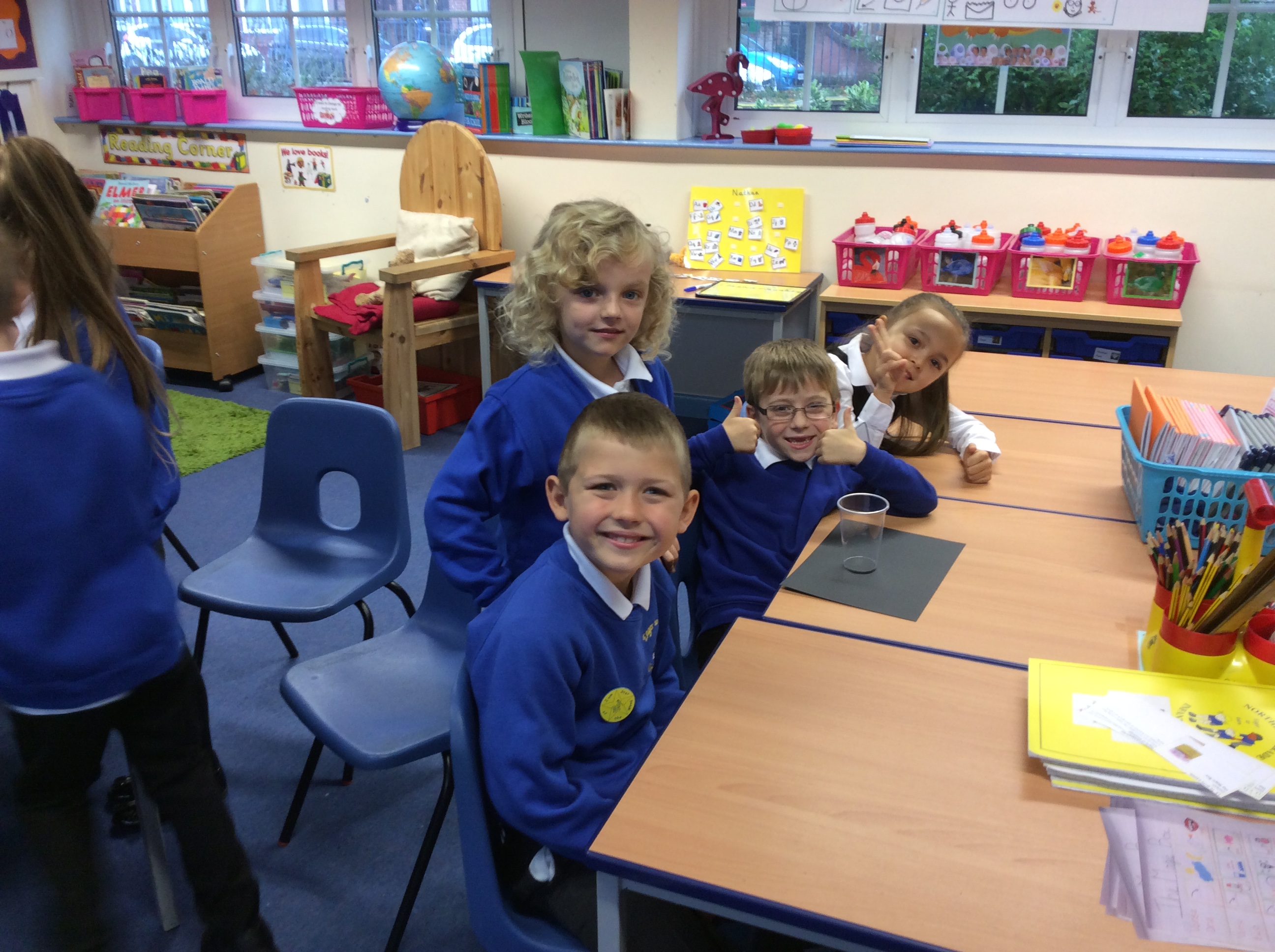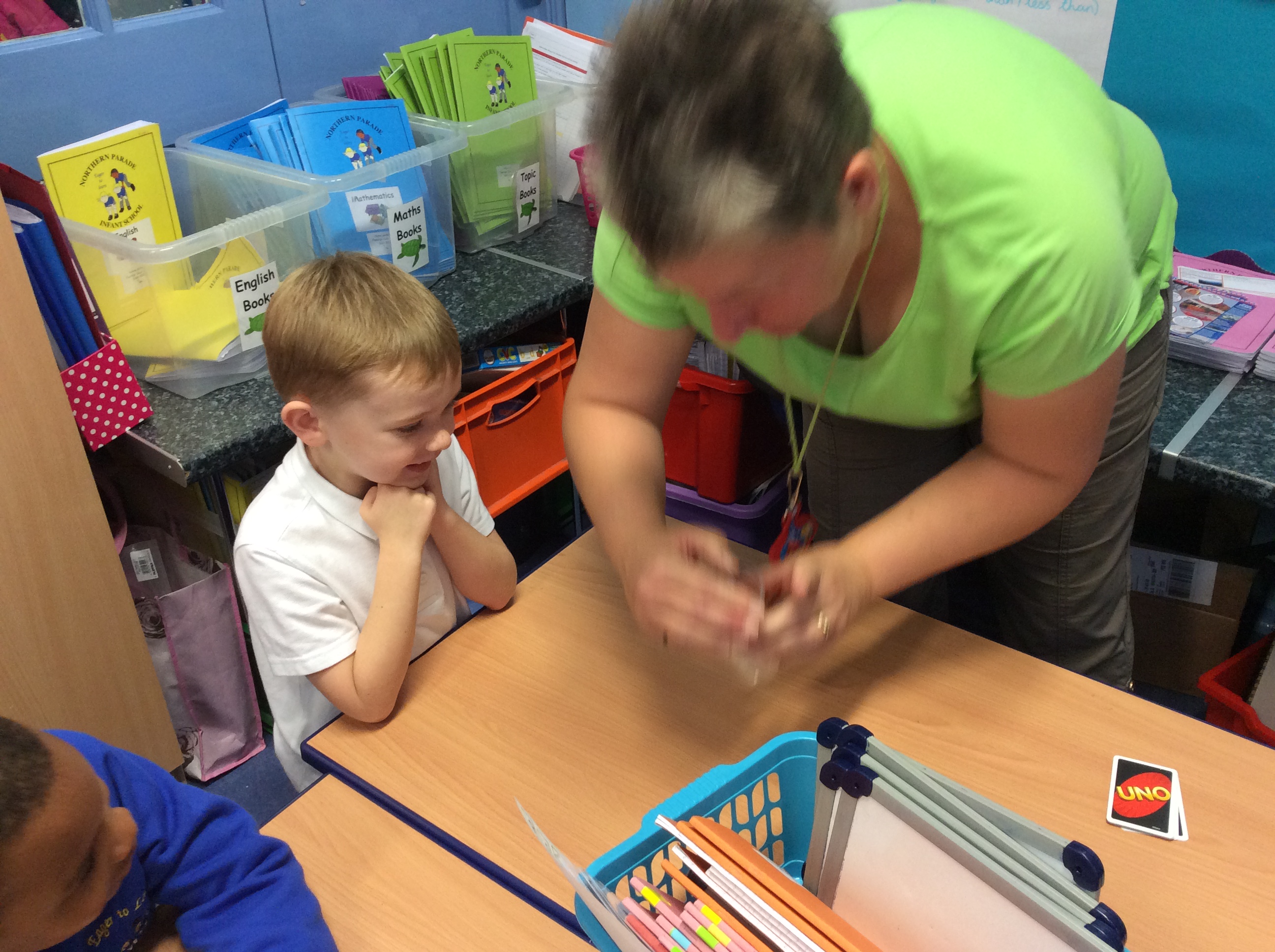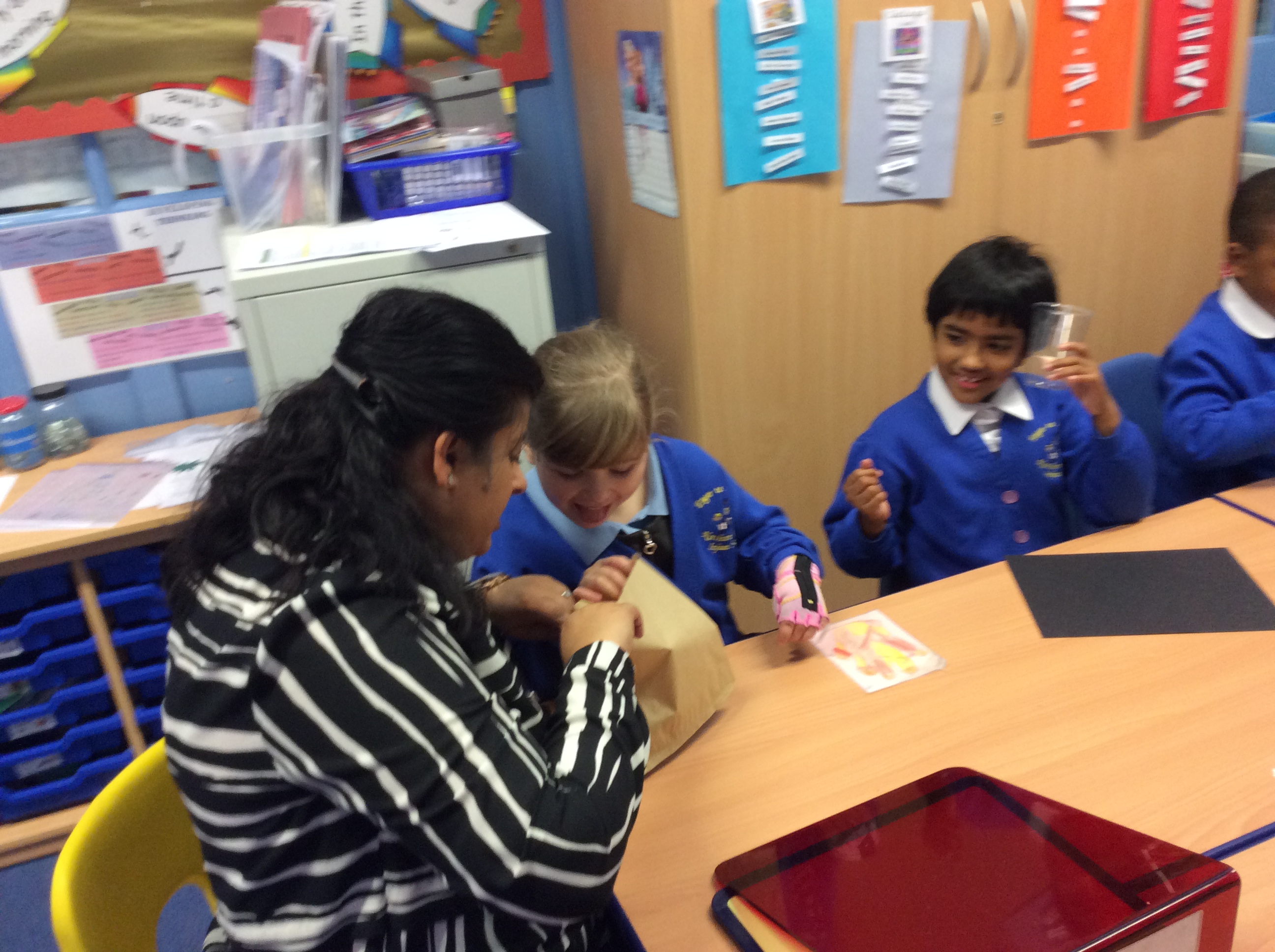 In maths this week we continued to look at number relationships and we used these relationships to help with our addition and subtraction skills. Whilst in English we learnt and wrote the poem 'The Magic Box'.
Autumn Term 2
Week 1
Well done to our Star of The Week – Jersey!
This week in maths has been our second week of inspirational maths. We had lots of tasks that required us to use our School values to complete them. Some of the things we had to do were create shapes out of string, sort shapes in a variety of ways and work out the best strategy in order to win a game. We also learnt a lot about how our brain works in maths.
In English we invented our own Magic Box poem, some of us even changed the name of our poems. Flamingo Class really used our school value of Creative Christoph as the items that went into their boxes were really imaginative. We also performed our poem to the rest of the class. Why not ask your child what exciting items were in their poem?
Week 2
Reader of the Week – Fred
Mini Big Quis Winners – Dauntless
Well done to our Star of the Week – Ruby-Rose
This week in English we started our non-fiction unit. We started by exploring non-fiction book and looking at how they were different from fiction books. We analysed the features of our 'Hawaii' text and used our dictionary skills to create a glossary.
In maths we have focused on adding and subtracting using a number line. We used our partitioning skills to jump backwards and forwards in a more efficient way. Our focus this week in Big Maths has been counting in 2s, why not practice over the weekend counting in 2s, 5s and 10s.
Week 3
In maths this week we have been exploring different types of measures, we measured length, weight and capacity. It has been a fun week exploring using different equipment. If there are any opportunities at home to measure and read scales, please encourage your child to help you.
In English we have been learning our new information text all about Hawaii. We have enjoyed learning different facts about Hawaii and writing about it. Why not ask your child what facts they can remember about Hawaii?
Week 4

Star of the week – YOUSEF!
Reader of the Week – George M
Our Gold Book entrants – Mia P and Caitlin H

This week in English we changed our information text so it was about another location. After a lot of discussion and some very interesting location ideas, we decided it should be about… Portsmouth! We came to this decision because it was a place we all have in common, it is an island and we know a lot about it. It was really fun innovating our boxed up plan as we learnt lots of new interesting facts about Portsmouth. Why not ask your child what their favourite fact about Portsmouth is?

In maths this we looked at another unit of measurement, time. We discussed all the different ways in which we could measure time and spoke about how long a second, a minute and an hour is. We then looked at a clock and it's different features. Using this knowledge we then created our own clock face using a hula hoop and some post it notes. At the end of the week we recapped 2D shapes as it something they have learnt previously. We discussed the language used when describing the properties of 2D shapes and then made some shapes using geo-strips.

Take a look at us hard at work…
Week 5
Well done to our Star of the Week – FRED W
What a busy week we have had this week in Flamingo Class!
On Thursday we had our topic presentation so this week we have been doing lots of topic work to make sure our islands and presentations were ready. You have all worked really hard this week and that hardwork has paid off, as your presentations on Thursday were fabulous!
You all spoke beautifully and should be proud of yourselves.
We also had Eco this week with Dr Collins were we braved the cold weather and made dens outside. We had to use our school value of Teamwork Trio to work together to build a den that would be suitable for a cold climate.

Week 6
In maths this week we finished looking at 3D shapes and then we explored money. We first explored the coins, looking at the language we would use to describe how the look. Then we made totals and solved money problems which involved the school fair. Next time you are paying in a shop why not ask your child to count you out the correct total using coins?
In English we have been planning our own non-fiction information texts all about our made up islands. Flamingo's have done an amazing job and created some really detailed plans. As it is a made up island lots of children used our school value of Creative Christoph to make their texts really exciting and were able to move their name up the Dragon's tail.
Just a little reminder that I check the children's reading records every Friday and if they have read 5 times or more they get to put their name on the Reading Dragon and they get a sticker on a card. When they get 10 stickers they get a mini prize and when they get to 20 stickers they get a big prize. Some children are 1 sticker away from their mini prize.
Spring Term 1
Week 1 and 2
What an exciting and busy first few weeks we have had in Flamingo class!
In English we have started our new text which is 'The Ugly Five' by Julia Donaldson. We have been exploring the book's language, illustrations and characters. As a class we focused on learning the part of the story which introduced the warthog. We then changed parts of our story map so it introduced a new animal, a leopard tortoise. Our author of the term in Year 2 is Julia Donaldson and we are encouraging the children to read as many books of her's as possible.
In Maths we have started looking at fractions and how fractions link with division and multiplication. To start with we focused on finding 1 half of shapes and amounts. We then explored how finding 1 half is linked with dividing by 2. Then how division, repeated addition and multiplication are all linked. Why not see if your child can solve this sum using an array 4×5= .
Week 3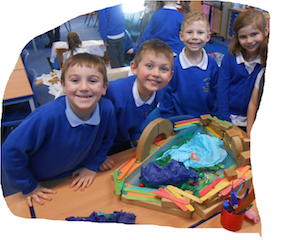 This week we were given a challenge in Topic. Marwell Zoo had received some new animals and Flamingo Class were asked to design and create a habitat for them to live in. We spoke about all the different things an animal would need in order to survive and how different animals are adapted to live in different habitats. They did an amazing job and should be proud of their teamwork skills. Why not ask your child to explain the habitat they created?
In Maths we have been continuing to look at different fractions including 1/4, 2/4 and 3/4. Whilst in English the children have been planning and writing their own invented character introduction about a different animal. They had to choose from a lion, leopard, buffalo, elephant and rhino. There were lots of discussions before they planned and it was lovely to hear their creative descriptive language.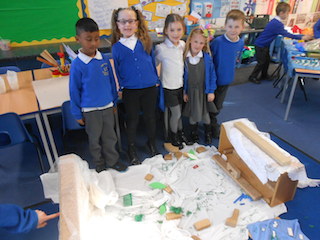 Spring Term 2

Week 1
This year is going so quickly, I can't believe we are already half way through!
In English this week Julia Donaldson gave us a task, she wants to turn 'The Ugly Five' into a play and wanted us to design a mask and write a set of instructions on how to make it. The children were given the opportunity to choose which character's mask they made however the clear favourite was the hyena. The children's masks were creative and I cannot wait to read their instructions when they write them next week.
In Maths this half term we will be looking at different strategies for solving addition and subtraction problems. The strategy we focused on this week was using partitioning and a pictorial representation (lines and dots). Why not ask your child if they can show you how they would solve 33 + 25 =.
Week 2
What a busy and short week we have had! I hope you all had a fantastic day playing in the snow on Friday.
In English this week we wrote our set of instructions on how to make the animal mask we created last week. The children's instructions were clear and I'm sure Julia Donaldson will be able to follow them easily.
In Maths we continued to look at strategies for solving addition and subtraction problems. We built on our learning from last week however instead of solving the problems using a lines and dots we used a blank number line.
It was also World Book day this week. The children all looked fantastic in their costumes and it was lovely hearing the children talk about the books they were from.
Week 4

On Tuesday Year 2 found a huge mess in the hall. After some detective work, we decided because of the strange ingredients it must have been George from George's Marvellous Medicine. After reading part of the book, we soon realised that George's Grandma was not very nice to George and we decided to write a persuasive letter to Grandma telling her how to be a good Grandma.
In Maths we have been recapping addition and subtraction strategies ready for our upcoming quizzes. Why not ask your child how they would solve this bridging problem? 25+37=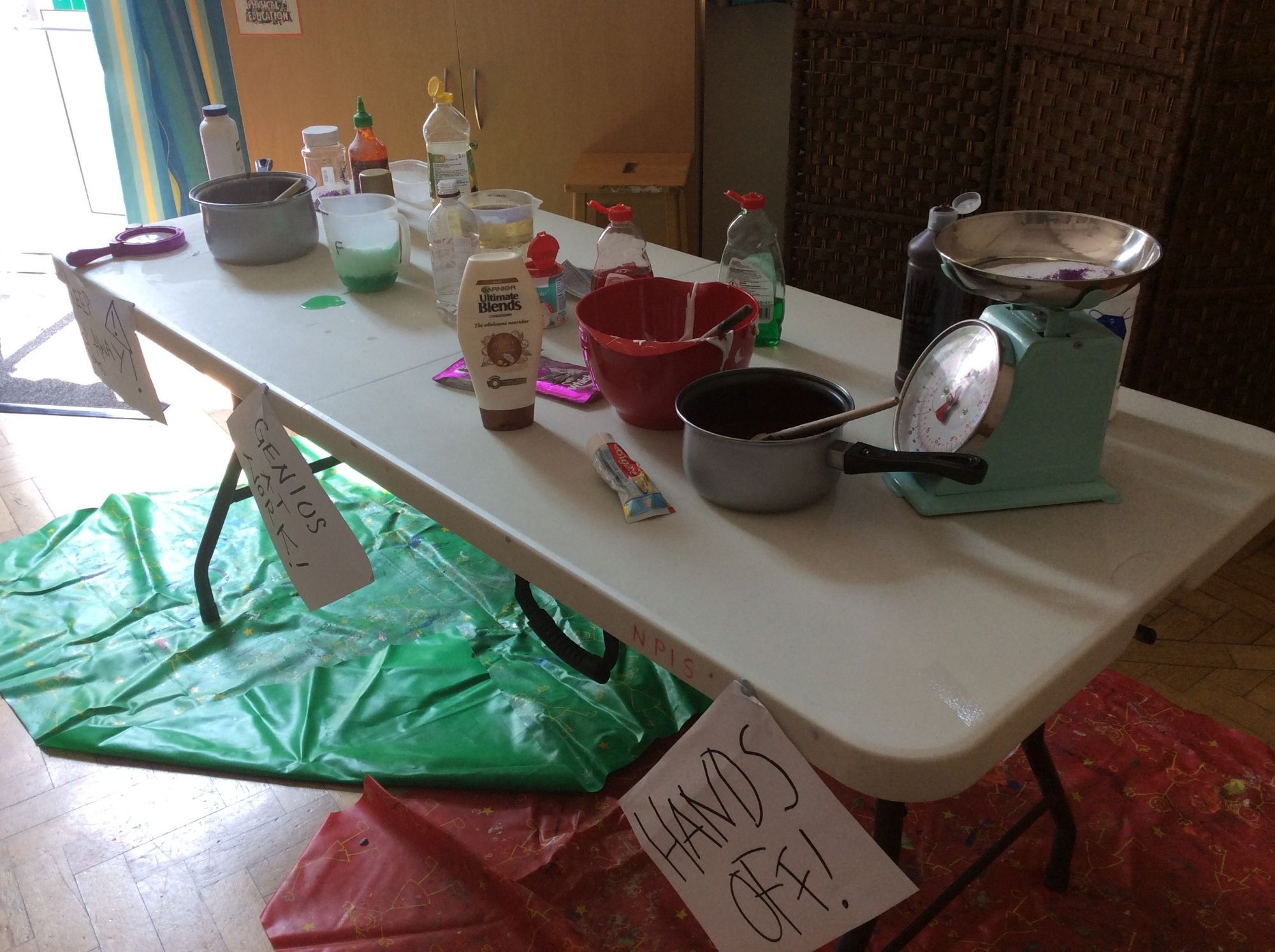 Summer Term 2
Week 2
We have had a busy and informative week in Year 2! On Monday, the children participated in sensory awareness day, where they learnt about different senses including, hearing, visual and touch. They all participated in a variety of activities including lip reading, learning sign language, reading and writing in brail and playing gold ball. A hearing dog also came into the school where the children learnt how it assists deaf/partially deaf owners.
Within shared reading, the children learnt about the use of nicknames, why people have them and even created some of their own!
In English, we have been learning about different inspirational people from the Victorian era. They have been researching on the I-Pads people such as, Florence Nightingale, Charles Dickens, Louis Pasteur and Dr. John Snow, where they then started to compose a short fact-file about each individual.
Math this week has been about exploring calculation. They have mainly focused on their times tables composing various number sentences by exploring with peg boards. Times Tables Rockstar sheets have also been completed throughout the course of the week.
During topic this week, the children created some artwork of their own inspired by Victorian creator and artist William Morris. The paintings were recreated in the children's very own style focusing on symmetry much like Morris's work
The focus for PE this week was jumping. A circuit was created for the class to participate in small groups. Activities included long distance jumping, playing with space hoppers and improving accurately jumping into an area.
Within all lessons, the children have been demonstrating the school values by working as a team, creatively producing artwork and showing independent practice in all subjects.