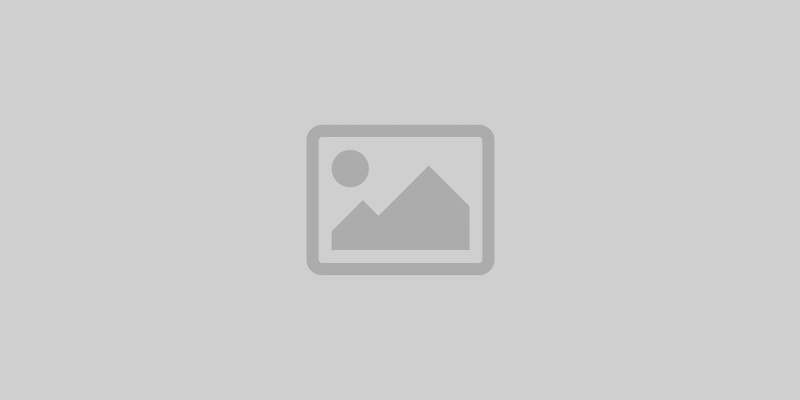 Class Teacher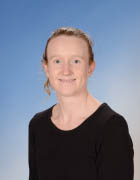 Miss Brooks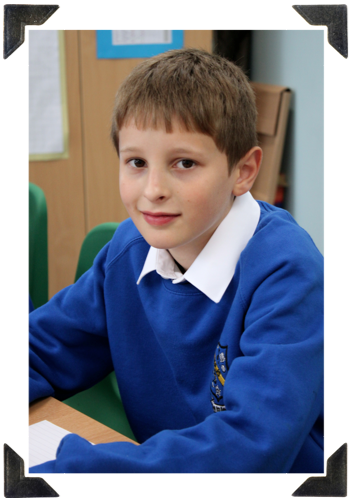 Congratulations to our Class Captain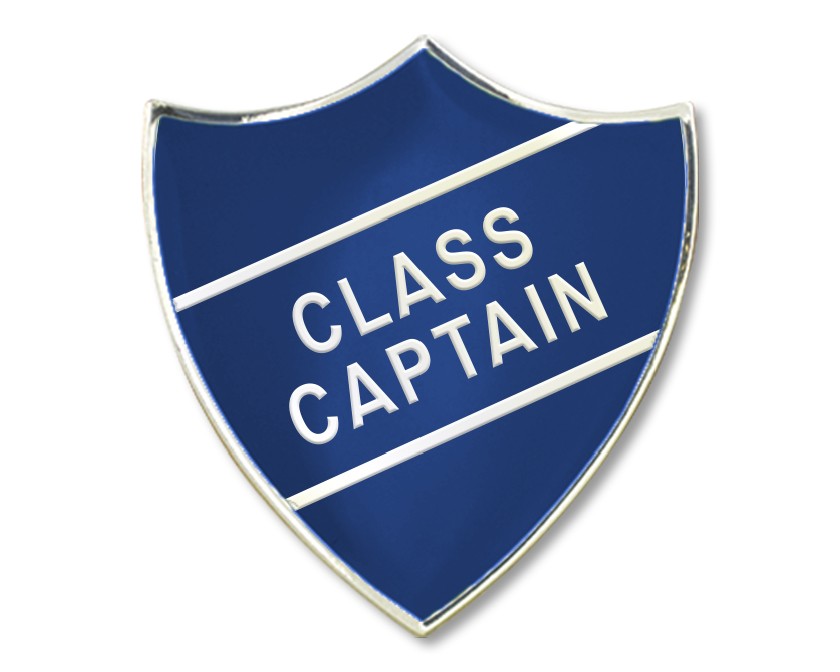 Kaden T
Autumn Term 1
Week 1 & 2
Class captains: Week 1- Billy / Week 2- Evie
Readers of the week: Week 1- Nathan / Week 2- Emily J
Big Quiz winners: Jk Rowling
A great first 2 weeks in Year 5 for Woodpecker Class. All of the children have come back to school with a great mindset showing myself and the other adults in the school that they are ready to learn.
Some fantastic work has been produced, so much so that work is already up on Woody's Wicked Working Wall. We have been looking at the book 'Mr Stink' and the children have throughly enjoyed reading the text and making their own prediction of who he is and what he may have done previously.
In maths we have been looking at what number is and looking at a range of ways we can show different numbers.
Let's keep this hard work up throughout the year and we will have a great year.
Week 3
Class Captain: Evie
Big Quiz: the big peach
What a week have had. We have carried on learning about Mr Stink and looking in great detail at what writer's tools have been used to make the story interesting. We have then learnt more about these and tried to include them into our work. I can already see an improvement in many of the children's writing. Very impressed.
In maths we have been looking at ordering and comparing numbers. Many of us have become experts in our place value and this has really helped us order numbers. Next week will be tough…. rounding!
It's been a really good start to the year and I'm hoping we can keep the hard work and fantastic attitude up throughout the year.
Week 4
Class Captain: Oakley S
We have had a really good week this week, writing our own class version of the Mr Stink text. The children have come up with some truly disgusting stories about a Crazy Bird Lady that lives in a treehouse. The descriptive language used has been fantastic.
In maths we have been looking at rounding numbers, which even I have found difficult. But each child has shown resilience to try their hardest to grasp the concept. We have ended this week with a maths test which everyone has done extremely well in. Very proud of each and everyone this week.
Next week we have the Beaulieu trip which we are very excited about. This children staying behind have also got a brilliant week ahead, as they will be working together showing off their talents in the Year 5 got talent week, where they will be doing all sorts of Maths, English and Art activities leading up to their showdown on the Thursday!
A special mention to the year 5 girls football team, who competed in their first tournament of the year last Friday. Each girl tried very hard, to which some of the girls were asking to be substituted as they had run their socks off. Very proud to be a part of such a brilliant team effort by the girls, playing against year 5/6 teams.
Week 6
Class Captain: Jamie P
Big Quiz winners were the Willy Wonkas
A good week back into normal lessons this week after a brilliant week at Beaulieu and the Year 5 got talent. The children got straight back into the hard work in English, where they were writing up their own version of Mr Stink. I can work out if they are brilliantly written or they are extremely disgusting. Nevertheless the children have worked really hard on their versions and I am very pleased reading them. In maths we have worked on addition problems, but not just using the column method. We have looked at adding questions only using our mind, to help us speed up our addition abilities. The children have really impressed me with their mental calculations. Parents you should test them at home!
One more week before half term so lets keep up the hard work before a well earned rest. Well done team!
Autumn Term 2
Week 1
Class Captain – Maisy
Big Quiz – 6 Cousins
An amazing week this week. The children have come back into school this week ready to learn. Each one has made me very proud of what they have achieved this week.
In English we have been looking at formal and informal language as well as expert sentences and a range of conjunctions to improve our work. Each person has grasped the concept really well and it has been very clear they have all understood how to use it in their work.
Another inspirational maths week this week, where we look at different types of maths questions. We have been looking at shapes, halves and patterns that have really made us think about our maths skills and how we can become better mathematicians.
Lets keep this fantastic work going throughout this half term and each child will achieve something amazing by the end.
Week 2
Class Captain: Luke
Reader of the week: Paige
No big quiz
I have to say many children from my class have really impressed me with their attitude and high quality of work this week. A number of children have stepped up their levels of work in both English and maths and have been coming up with some excellent prices of writing and maths work.
Well done to those children who participated in the change for life programme this week!
Goes to show that I really have the class of excellence (Coe)
Great week!!
Week 3

Big Quiz – Gangsta Granny FC
Class Captain – Ria Louise
Reader of the week – Sam

I have been so pleased with the children's work in English this week. They have been making up their own reasons why the Aztecs have become extinct and have written them in an explanation text. Some of the reasons include fighting against each other, fighting deadly diseases and fighting against their own gods they normally worship. It truly has been an interesting week in English. In Maths we have looked deeper into decimal numbers and what the values are behind each decimal number. We have also looked at rounding these numbers as well as comparing them to other decimal numbers. A difficult thing to conquer, or so I thought! Everyone has done really well in maths this week.

A brilliant start to a new topic – Angry Aztecs part two, The apprentice. We have found out that Sir Alan Sugar has set us the task of making our own chocolates which includes designing and making the chocolates as well as the packaging and the marketing. We are very excited to start this new topic.

A quick update – We will be gaining a new person in our class as of Monday so we need to make sure we welcome them into the class and show them how fantastic we are as a class.
Week 4
Class Captain – Archie B
Reader – Nathan R
No Big Quiz
Welcome Thomas to our class! We have had such a good week getting to know our new classmate and he has done very well settling into our class.
In English we have looked at the wishing story – The Piano – about a grandfather who has had some very hard times throughout his life. He is wishing to have the happier times back. The children have all written their own flashbacks that he could have been having showing a range of emotions from sadness to happiness.
In maths we have been looking at fractions, but not only looking at what they are but adding, subtracting and multiplying them. The children have astounded me with their fraction knowledge and their ability to be able to add, subtract and multiply fractions all within 1 week. Ask your children to teach you how to do these three calculations.
Week 5
Well done to our Class Captain – Erin
Also well done to George, our Reader of the Week.
As we draw closer to Christmas, I thought the high level of energy and good work would drop! How I was so wrong. All the children have carried on this fantastic drive and attitude towards their learning making progress in all areas of their learning.
With only 3 weeks until Christmas we are going to start incorporating Christmas into our learning and our classroom, which will certainly make the lessons even more exciting than normal.
In English this week we have looked at a range of texts that are all based on wishing stories. We have looked closely at the texts and what tools have been included to discover why they are so good. We even had a special visitor test us on what we had learnt. My teacher from when I was in year 4 was being shown around the school and visited our class to see what we have been learning about. Speaking to him after the lesson he was very impressed with the answers the children gave so well done!
In maths we have been finishing off our work with fractions and then moving onto a different type of number. DECIMAL NUMBERS. We have looked closely at what they represent and how we can add and subtract these numbers. Although slightly harder many of the children worked out that it isn't that difficult as they use the same skills we have already learnt. Good work this week in maths everyone!
Not long to go now so let's keep this positive drive going all the way until the end of the year.
Week 6
Class Captain – Paige
Reader of the week – Craig
A good week this week. The children have been extremely focused throughout the week to ensure they are making the best progress possible.
In English we have been looking at making our own version of the piano story and the children have come up with some brilliant ideas. Ideas that link to other stories showing their understanding of a range of books and stories.
In maths we have been looking at multiplying larger number using a range of mental methods which the children have been fantastic at. Well done.
A really good afternoon with Dr Collins yesterday developed our knowledge and understanding of chocolate and the origins. The children also tried 100% coco. It's fair to say I think many of the children will stick to diary milk!
Just two weeks left everyone until the Christmas break! Let's keep going
Spring Term 1
Week 1
Well done to our Class Captain ROMEO!
In English, we have learnt about true love stories with a twist! We studied the language in both "a tale of true love" and "the canal". We identified they were both warning stories. We preferred "The Tale of True Love" because it included death!
In maths, we have been investigating multiples and factors. Working systemically, we found patterns and proved or disproved statements.
In shared reading, we have been using our skimming and scanning skills to find out about William Shakespeare's personal and business life
In topic, we have been learning about the terrible Tudors. we found out that the house of Leicester and the house of York had a civil war. William Shakespeare lived in the Tudor times.
By Nathan
Week 2
This week in maths, we have been learning about highest common factors, prime factors, squared and cubed numbers.
In English, we have drafted our own true love stories, focusing on three clause sentences and how to proof read our work properly.
We are preparing to go to battle! The class has been split into the House of Lancaster and the House of York. The battle of Bosworth will commence next week!
Spring Term 2

Week 1
In English, we have begun a new writing unit focusing on discussion texts. Discussion texts give two viewpoints of a topic, often for and against an issue. For example, should school children wear school uniform?
In maths, we revisited our knowledge of the formal multiplication method we learnt before half term and challenged ourselves further by multiplying two digit by two digit numbers.
In PSHE, we discussed our knowledge of drugs, both good and bad, and the risks to our health if we do not follow parents instructions and guidance properly.
Week 2
This week in maths, we have explored our knowledge of division. Using this knowledge, we have begun to use resources to learn a written formal method.
In our English lessons, we have immersed ourselves in a range of discussion texts and practised some of the writer's skills used in them, including expert statements and generalisers. These will help us when we come to plan and write our own discussions.
In topic, we used drama to explore our understanding of Tudor life. After analysing artefacts, including paintings, we compared the lifestyles of the rich and poor.
Week 4
This week in Woodpecker class, we have been practising our discussion writing skills, by using expert statements and a range of conjunctions to explain. We have also tried hard to improve our handwriting.
In maths, we've mastered our to divide using the formal written method called bus stop!
After our snow day last week, we luckily managed t ore-schedule our visit the Mary Rose this Thursday. We had loads of fun experiencing life on the Mary Rose and even dressed up!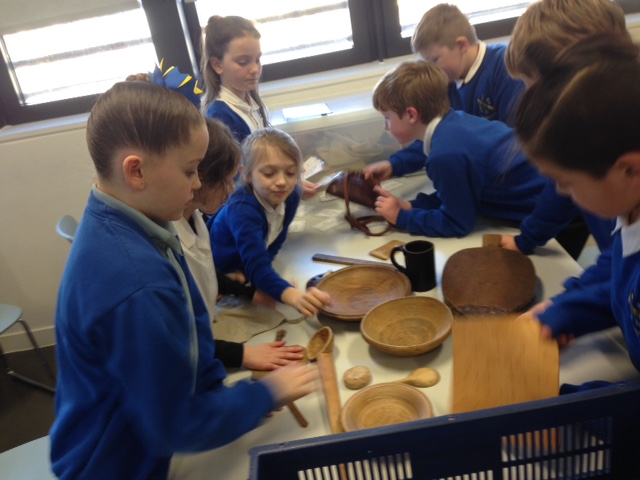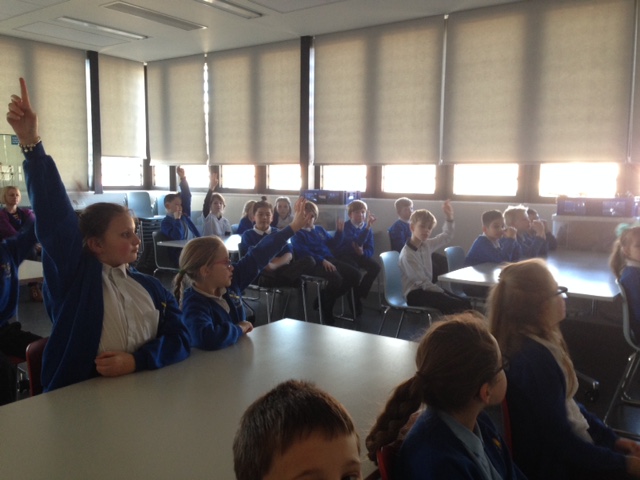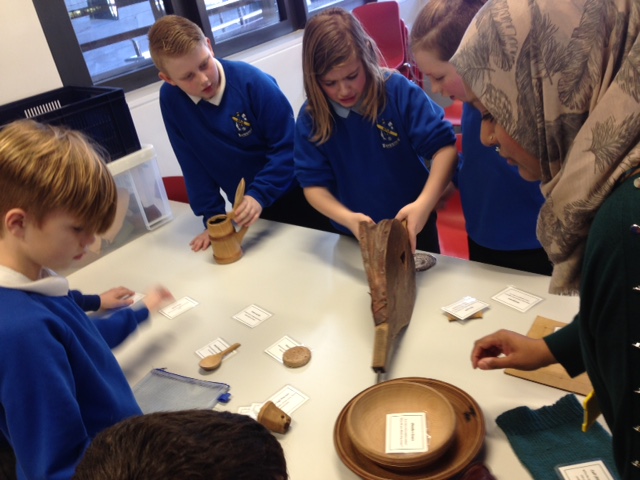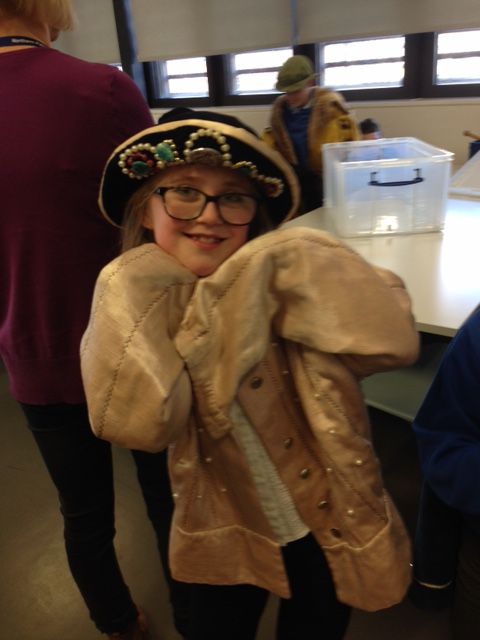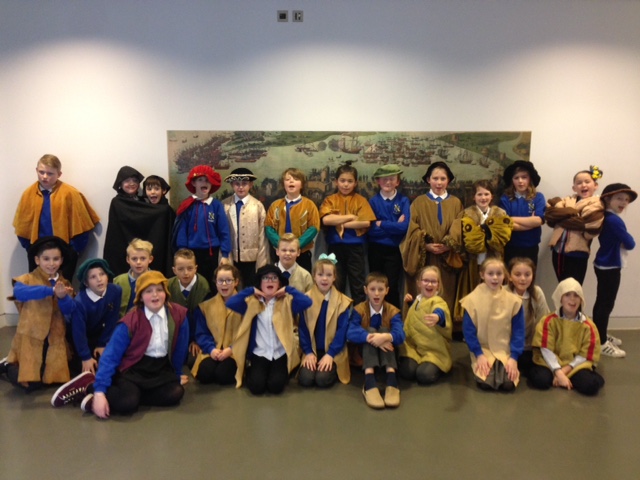 Handwriting (picture) by Romeo